Lab Power Supply - Signal Generator and Amplifier
LQ3758-001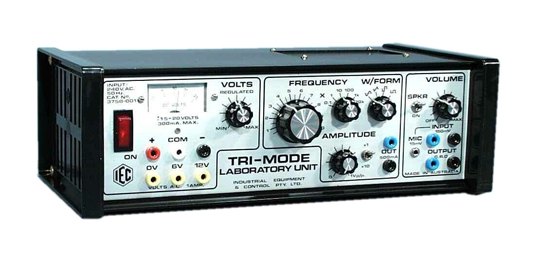 $
649.00
| QTY | Price |
| --- | --- |
| 1 | $649.00 |
| 5 | $609.00 |
| 10 | $575.00 |
| 25 | $575.00 |
Description
This Power Supply, Signal Generator and Amplifier is a great multi-purpose instrument for the electronics laboratory. It provides the technician or student with a very convenient multi-purpose instrument.
It provides:
A metered and regulated +/- 1.2-20V.DC power supply at 250mA output.
An excellent high power Signal Generator from 0.1 to 100kHz.
An audio amplifier with high and low sensitivity inputs, oscilloscope output and internal speaker.
This instrument is excellent value for money.
Features
Signal generator features sine, triangle, and square wave outputs
Convenient multi-purpose instrument
Specifications
AC Output
6 & 12 Volt AC at 1Amp continuous. The outlets are fully floating and are protected by automatic self-resetting devices against overload and short circuit.
DC Output
Regulated and metered positive and negative outputs, each fully adjustable from 1.2 to 20 VDC at 250mA continuous (300mA max) OR +2.4 to 40VDC when load is connected across the outer terminals. The meter will monitor voltage of only one half of the output (0-20V) and the actual output will be double the voltmeter reading.
Regulation
Better than 20mV from no load to 250mA.
Ripple
Better than 10mV RMS at 250mA.
Range
0.1Hz to 100kHz over 6 ranges
Modes
Sine, Triangular, Square (pos. & neg. excursions), Square (pos. only)
Distortion
Sine - Within 2% under 20kHz Triangular - Linearity within 1% under 20kHz Square - Rise time less than 1 microsecond at 5V peak to peak
Outputs
x1 range - 0-1 Volt peak or 0-2 Volt peak/peak x10 range - 0-10 Volt peak or 0-20 Volt peak/peak
Inputs
15mV max. via 3.5mm phone jack, or 150mV max. via 4mm socket terminals
Output
To oscilloscope (CRO) via an internal capacitor
Mains input
220/240VAC 50/60Hz at 0.5A max.
Protection
Internal mains fuse. 500mA.
Resources
You Might Also Like
All prices are in Australian Dollars and include GST. GST will be removed from your order if you are ordering from outside Australia.
Products may differ from pictured.
All trademarks and trade names are the properties of their respective owners. Wiltronics disclaims any proprietary interest in trademarks and trade names other than its own.
Lab Power Supply - Signal Generator and Amplifier
LQ3758-001
$
649.00
| QTY | Price |
| --- | --- |
| 1 | $649.00 |
| 5 | $609.00 |
| 10 | $575.00 |
| 25 | $575.00 |