About Us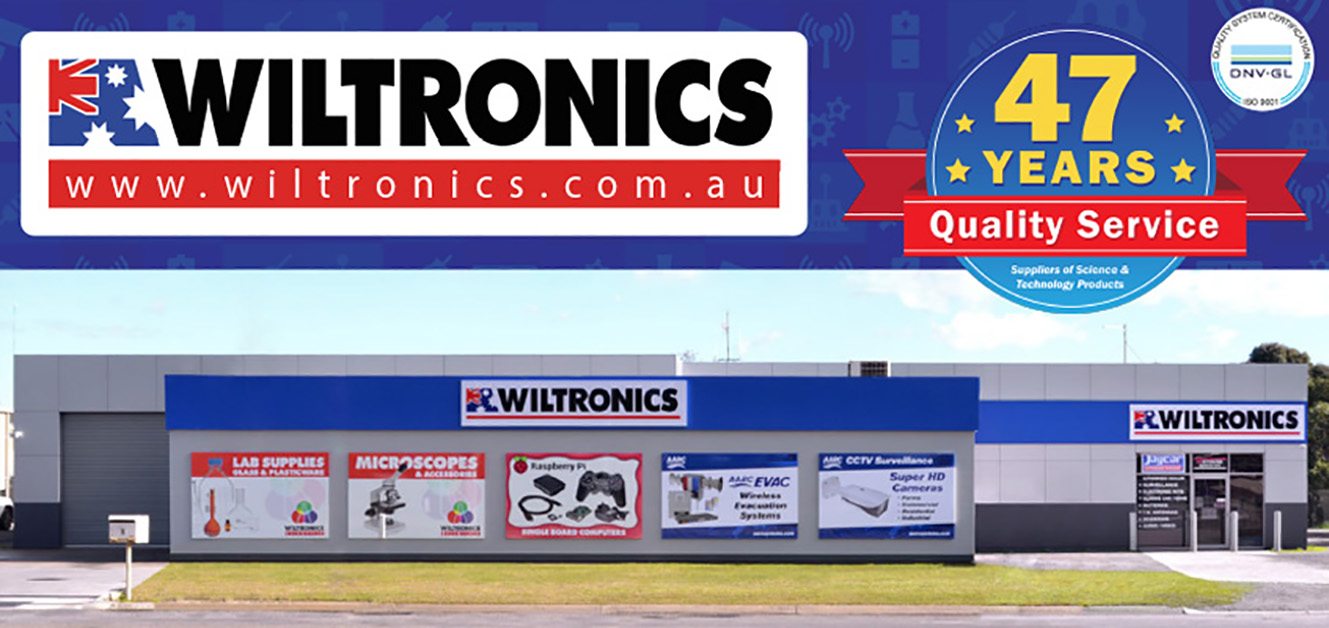 Electronics, Science, & Educational Products
On Site Manufacturing and High Tech Prototyping
Catering to Consumers, Schools, and Businesses Australia wide
Located in Ballarat, Victoria, Australia
Wiltronics is an Australian owned and operated business specialising in the sale and local manufacture of high tech products and scientific equipment
Operating for 47 years Wiltronics guarantees AAA products and customer support, with a team of knowledgeable and friendly sales staff who have a combined 250+ years industry experience with specialties in Electronics, Science, IT & Comms, Security, and Educational Supplies ready to assist and guide your technical decisions.
Wiltronics caters to the Education, Trade, Industry and Manufacturing Sectors along with Individual Consumers, and has been accredited to the International Standard ISO 9000 of Quality Control for over 25 years.
Wiltronics Ballarat Superstore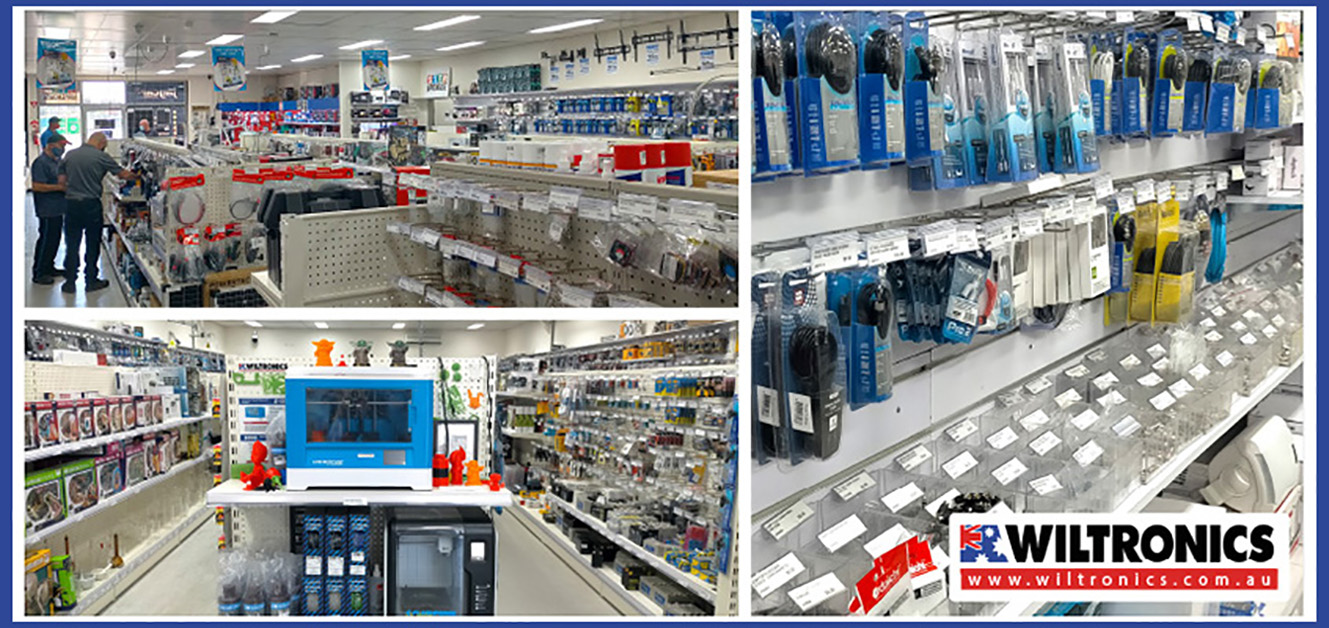 The Wiltronics Superstore provides a one-stop solution for all your technology and science products, peripherals, and accessories.
Situated in Ballarat (Victoria's largest inland city), Wiltronics has one of Australia's largest ranges of science and technology products, and being a rural, community based business it has maintained a stable, knowledgeable, and loyal workforce enabling the company to provide a high level of customer care.
Some In-Store Products Include
Electronic Components
Cables, Plugs & Switches
STEM & Robotics
3D Printers
Speakers / Headphones
Power banks /Batteries
Modems and Routers
Ethernet Cables & Access
Electronic Kits
Tools & Test Equipment
All Types of AV leads
Av Adapter Plugs
LED Lighting
Lithium Batteries
Generators & Inverters
Solar Panels & Blankets
Laboratory Equipment
Educational Science Supplies
CCTV Systems
Security Systems
Electronic Kits
Arduino Coding Kits
Raspberry Pi Kits
Brass Monkey Fridges
4WD Lighting
UHF Radios
Camping Tech Gear
Digital Weather stations
Wiltronics Secure Online Store & Website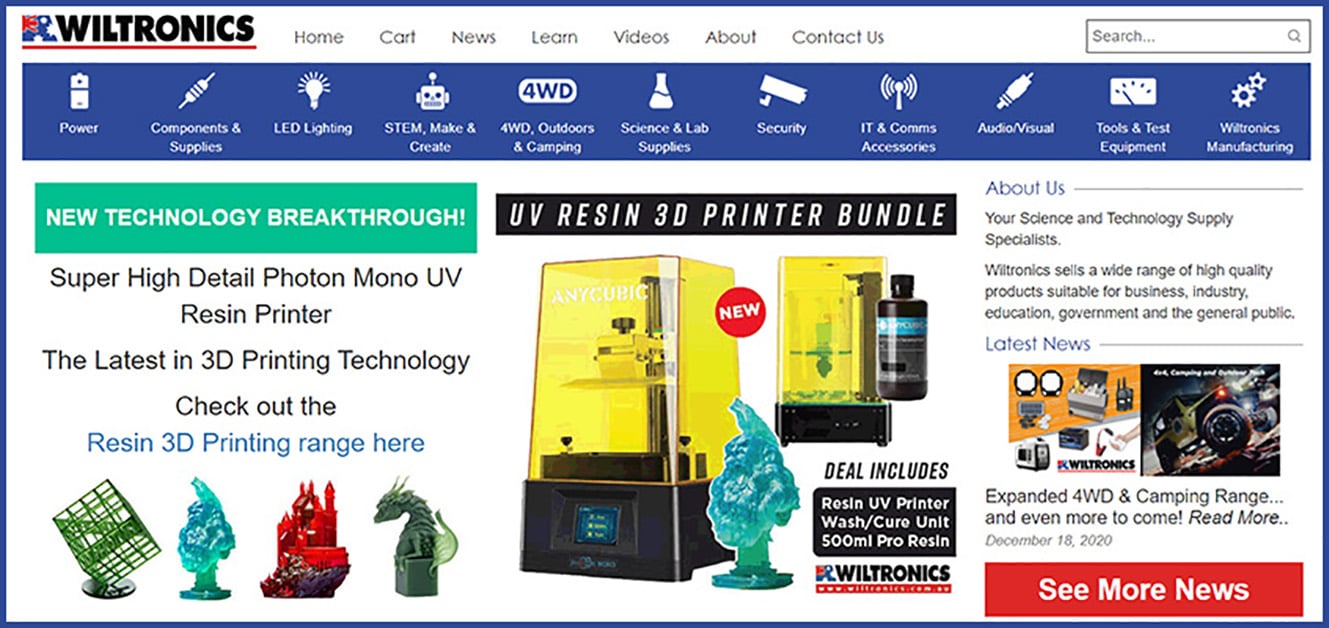 Along with its huge range of In-store products, Wiltronics carries over 8000 online items, with new products added daily. All of your Science and Technology needs are available for secure and easy online transactions.
Wiltronics Online Product Categories
Power
Components
LED Lighting
STEM Make & Create
4WD, Outdoor & Camping
Science & Lab Supplies
Security
IT & Comms Accessories
Audio Visual
Tools & Testing Equipment
Manufacturing
Secure Checkout & Payment Options
PayPal, Visa, MasterCard, Direct Bank Deposit
Flexible Shipping
Australia Post Standard and Express Delivery, StarTrack
Local Pick-up
Education & Laboratory Supplies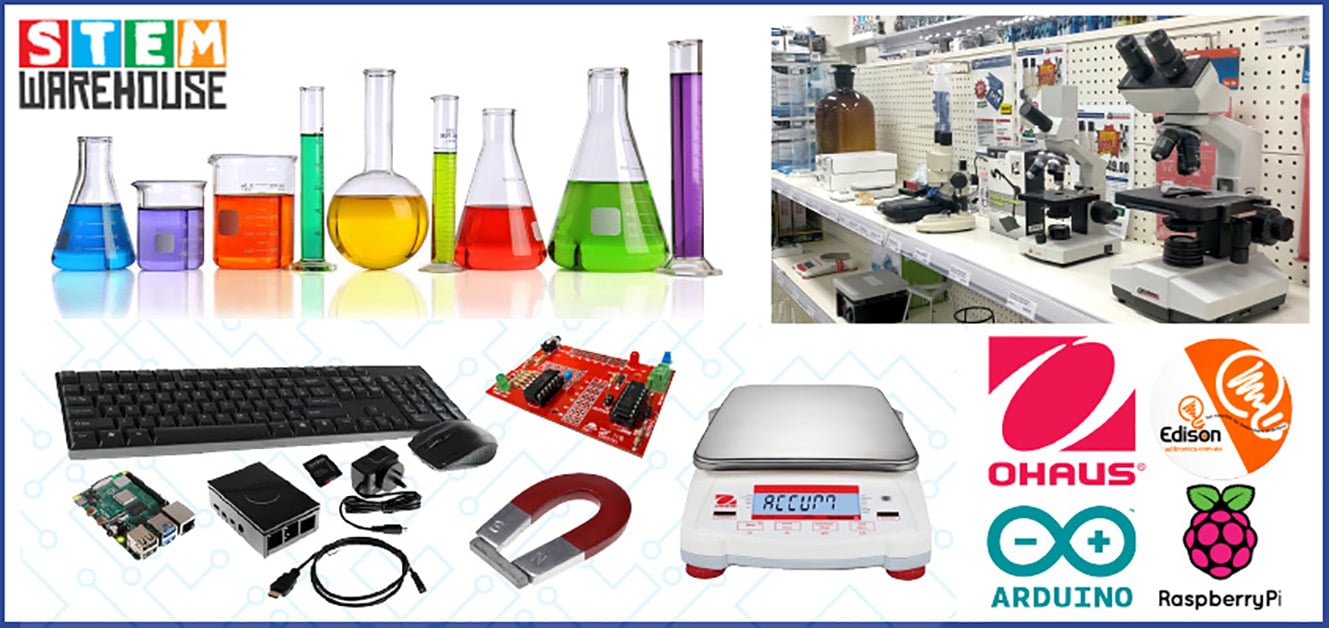 Wiltronics supplies a wide range of Wholesale laboratory equipment and teaching resources to Schools, TAFEs and Universities across Australia.
This includes scientific glassware, microscopes, and balances, as well as STEM Electronics Assembly and Coding Kits for Arduino, Raspberry Pi, Picaxe and ARD2
Some of the Educational Products Supplied by Wiltronics
STEM Warehouse Products
Beakers, Flasks & Test Tubes
Digital Microscopes
Biological Microscopes
Microscope Accessories
OHAUS Scales & Balances
4D Anatomical Models
Raspberry Pi Kits
Arduino Coding Kits
Edison Robotics
ARD2 Computer Kits
Whybricks
Manufacturing, Prototyping & Production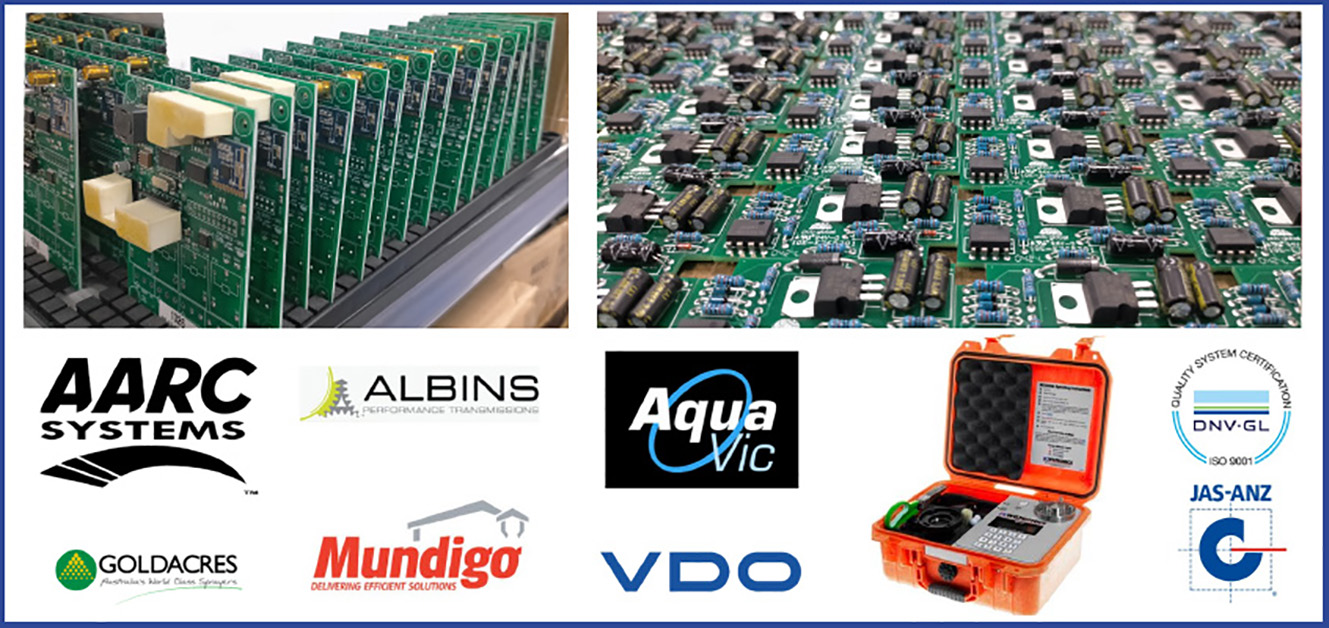 Wiltronics works with industry to develop new product designs from concept to market with its prototyping and production capabilities.
The Ballarat based Wiltronics Manufacturing Plant produces medium and high tech products, and has small and medium size production capacities. Most products are microprocessor based and utilise surface mount technology.
By manufacturing in Australia, Wiltronics clients can be assured that product quality is of the highest standard, and that their IP and technology is looked after with integrity and confidentially.
Some of the Industries currently serviced by Wiltronics Manufacturing include
Mining
Rail
Automotive
Industrial
Forestry
Educational
Farming/AG
Telecommunications
Computer/IT
Security
For Inquiries
Contact : manufacturing@wiltronics.com.au
Wiltronics STEM Products
Science, Technology, Engineering, Mathematics (STEM)
The National STEM School Education Strategy states that a national focus of STEM in school education is critical to ensuring all young Australians are equipped with the necessary skills and knowledge that they will need to succeed by ensuring all students finish school with a strong knowledge of STEM and related skills.
Wiltronics STEM products engage the imagination, unlock creativity, and enhance physical dexterity
Some of the Wiltronics STEM Products Include
Whybricks
3D Printers
ARD2 Coding Kits
PICAXE Coding
Electronic Kits
Arduino Coding
Edison Robotics
Raspberry Pi
Science Supplies
• Biology Equipment & Supplies
• Chemistry Equipment & Supplies
• Physics Equipment
• Environmental Science Supplies
Student Textbooks
Teacher Lesson Plans
4D Anatomy Kits
Robotics Kits
Electronic Construction Kits
SNAP Electronic Kits
MakeBot
Electronic Components
Micro:Bit & Kits