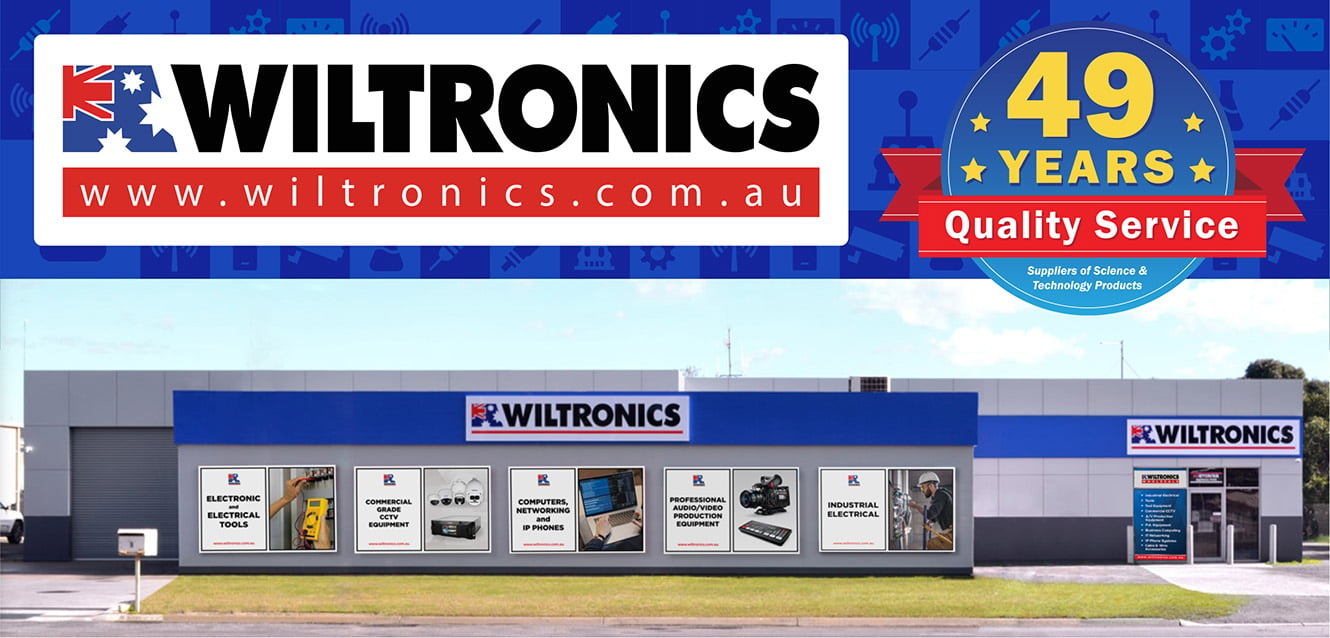 About Us
Wiltronics is an Australian owned and operated company, operating for 49 years, the business opened in 1974. We feel very privileged to be able to supply our customers with our range of Products and Services.
Our Products: we have significant range of products we can supply you with, embracing products for Electronics, Electrical, Education, Science Laboratories and a range of specialised commercial and professional equipment and systems.
Our services: these are something we are very proud of, we continue to provide our customers with the services of our Australian based Electronics Contract Manufacturing business.
Our business is divided into three different divisions, all working together to meet our customer's needs.
Wiltronics Online
Wiltronics was the first company in regional Australia to establish a web based shopping facility in 1998. To all of our on-line customers over the last 25 years, we thank you for your support.
Our team is ready and pleased to continue to service all of our current customers and to welcome new customers. We invite potential new customers to join our existing customers including Retail Consumers, Educational, Electrical, Electronics, Science, Industrial, Government and other Businesses. We are pleased to say that our existing customers are located across Australia and from International destinations.
Wiltronics Wholesale
is a specialised physical (Bricks & Mortar) Wholesale Store located in Ballarat, Victoria. This store provides products and services to the Electronics and Electrical Trades, Industry, Government and associated Businesses. We also have a range of specialised Commercial and Professional products, equipment and systems.
We are pleased to advise that all of the products that we supply in this store are also available through Wiltronics Online.
Wiltronics Manufacturing
is proud to have maintained its Australian On-Site, Contract Manufacturing business, delivering Electronics products, from component sub-assembly level through to finished product. This facility has operated in Australia continuously since 1982.
The Wiltronics Team
Customer support is our team's high priority. The team has a combined 250+ years of industry experience, with specialists in Electronics, Science, IT & Communications, Security, and Educational Supplies.
With their knowledge and friendly service they are ready to assist you with information about our products and if required, to help to guide you through your decision making process.
To demonstrate our commitment to you, Wiltronics has maintained a Quality Assurance System that has been accredited to the ISO 9001 International Standard, continuously for over 25 years.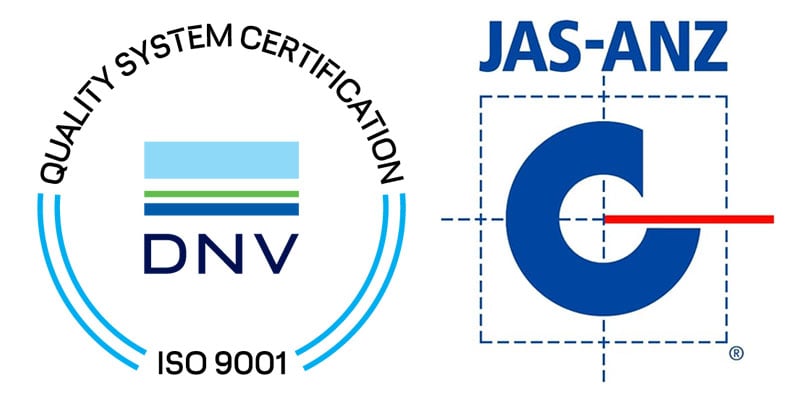 "Wiltronics Online" provides a secure site, for your on-line protection. Along with the complete range of "Wiltronics Wholesale" products, "Wiltronics Online" carries over 8000 online items, with new products added daily. All of your Science and Technology needs are available for your secure and easy online access.
All items are stocked in Australia and delivered to you from our Ballarat warehouse.
(This is with the exception of our PASCO educational product range, which is imported on demand from the USA, against customer order)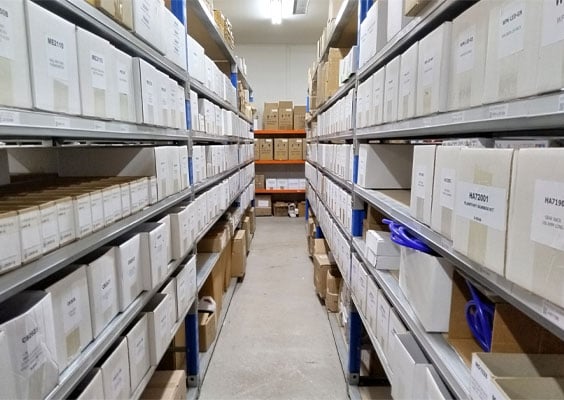 "Wiltronics Online" Product Categories Include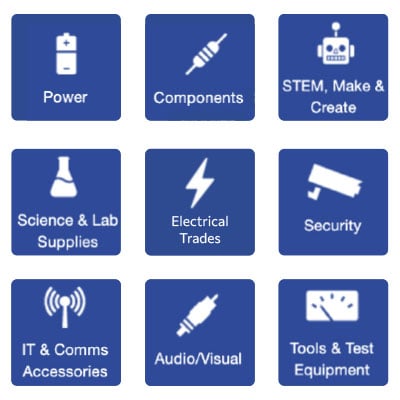 Secure Checkout & Payment Options include:
PayPal, Visa, MasterCard & Direct Bank Deposit
Flexible Shipping:
Australia Post Standard & Express Delivery, StarTrack Road Express and customer designated delivery services.
Here, we are pleased to provide some examples from the "Wiltronics Online" categories:
1. STEM Make & Create Education Electronics Technology & Science Supplies
Science, Technology, Engineering, Mathematics (STEM)
The Australian Curriculum has a strong national schools education strategy, focused on: Science, Technology, Engineering and Mathematics (STEM). This strategy acknowledges it is critical to ensure all young Australians are equipped with the necessary skills and knowledge they will need to succeed. It is the task of educators to ensure all students finish school with a strong knowledge of STEM and related skills.
"Wiltronics Online" is proud to be contributing to the delivery of these educational objectives, we are doing this through our ongoing supply to schools of a significant range of (STEM) Equipment and Consumables.
Some of the "Wiltronics Online" STEM Products Range Includes
• Science Supplies: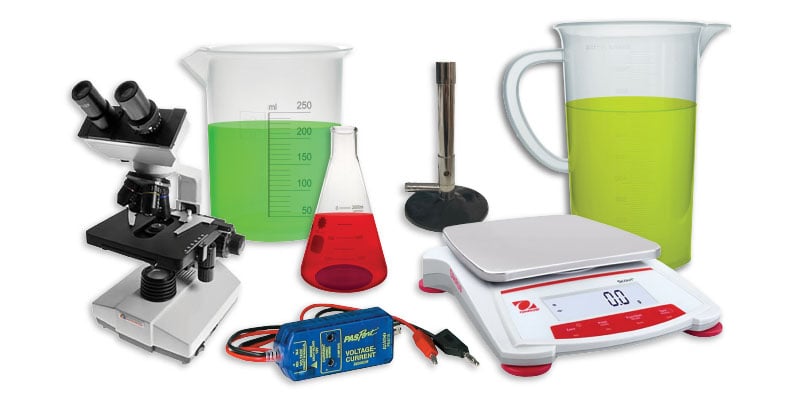 Biology, Chemistry, Physics and Environmental products and equipment, plus a large range of Science Consumables.
• Technology: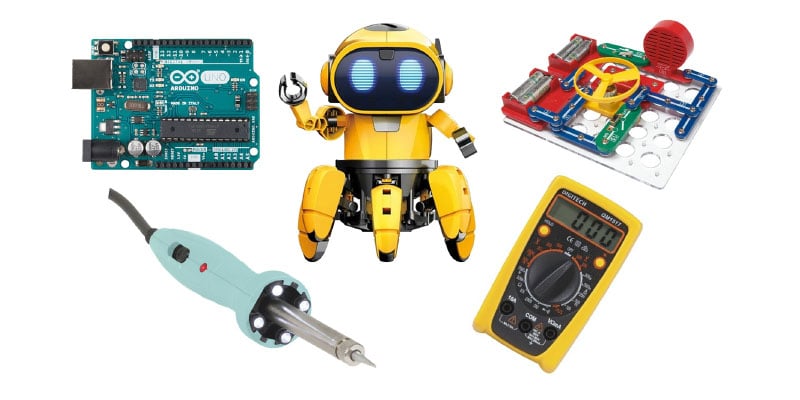 Electronic Components, Electronic Construction Project Kits, Electronic Teaching & Instructional Kits, IT Based Coding Kits, Robotics Kits, Electronics Tools & Test Meters plus a range of Technology Consumables.
• 3D Printing: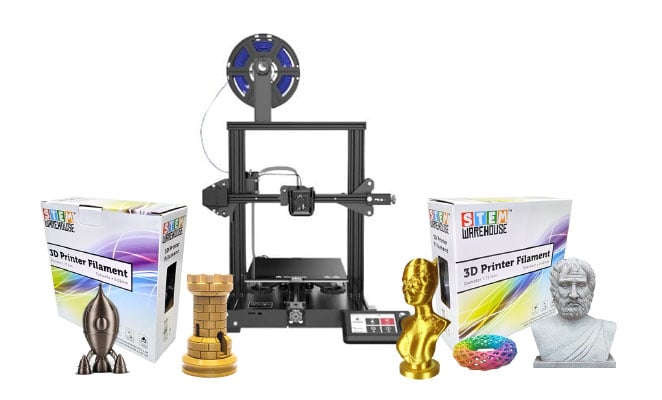 3D Printers, Printer Filaments and Printing Accessories.
For all your needs, please visit our website: wiltronics.com.au/product-category/make-and-create or for other inquiries please email: sales@wiltronics.com.au
2. Science and Lab Supplies
"Wiltronics Online" supplies a wide range of wholesale laboratory and in-field equipment and Consumables. These are supplied to a range of laboratories and industrial clients across Australia.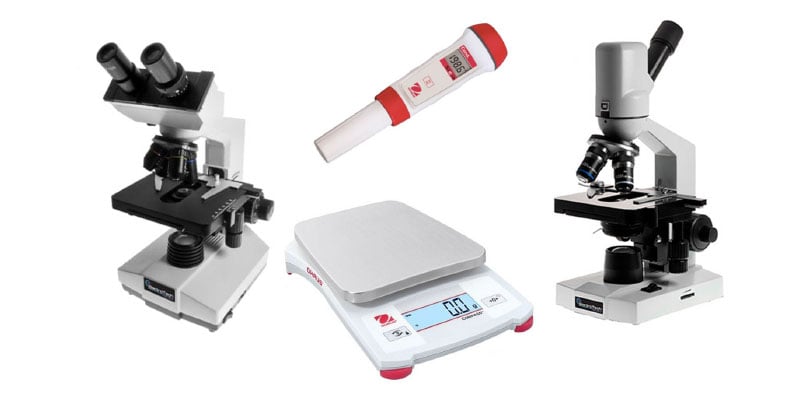 The products in this category include: Microscopes, Centrifuges, Scales, Balances, Vortex Mixers, Orbital Shakers, Environment Monitors and Test Equipment. In addition to this we supply Glassware, Plastic Ware, Ceramic Ware, Hardware, Safety Products and a large range of other Consumables.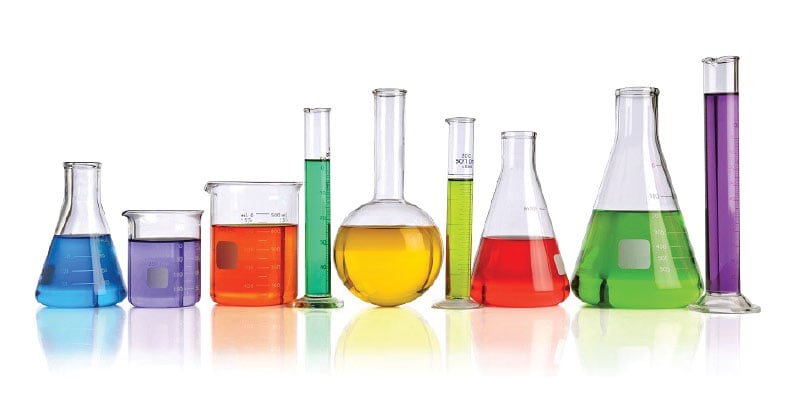 For all your needs, please visit our website: wiltronics.com.au/product-category/science or for other inquiries please email: sales@wiltronics.com.au

"Wiltronics Wholesale" The store located at 5-7 Ring Rd. Alfredton Vic 3350, is a one-stop solution for trades, professional and commercial clients. It provides its local customers with all their professional technology products, peripherals and accessory needs.
Situated in Alfredton (Ballarat), "Wiltronics Wholesale" has one of Australia's broadest ranges of professional technology products. Specialised in servicing the Ballarat and District community, the store has maintained a stable, knowledgeable, and loyal workforce enabling the company to provide its local customers with a high level of customer service and care.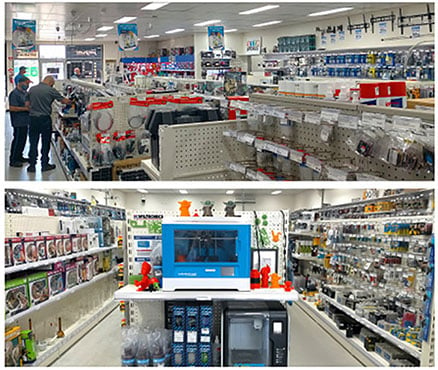 The In-Store Product Ranges Include:
Industrial and Trades Electronic/Electrical Supplies
Public Address (PA) Systems and Equipment
Professional Audio/Visual Production Equipment
IP Telephone Systems and Accessories
Computers, Networking Equipment, and Accessories
3D Printers, Filament and Accessories
Electronic, Electrical & Environmental Test Equipment
Audio/Video Equipment and Accessories
CCTV and Access Control Security Equipment and Systems
Tools for the Electronic and Electrical Trades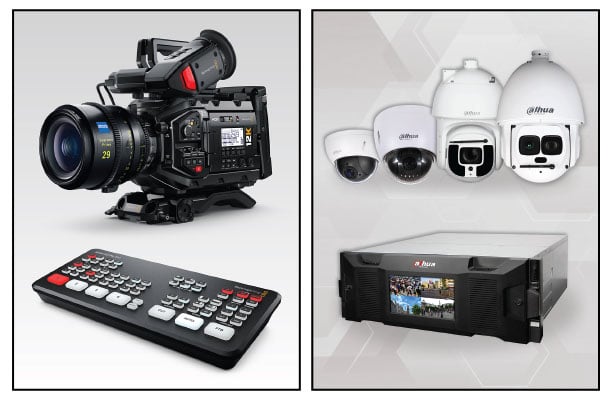 The good news is the complete range of "Wiltronics Wholesale" products are also available through "Wiltronics Online" visit our website: wiltronics.com.au

"Wiltronics Manufacturing" is one of only a few Contract Electronics Manufacturers left in Australia. It assists customers developing new products from concept to market, utilising its design, prototyping and production capabilities.
"Wiltronics Manufacturing" also works with industry to quote on any customer's current products, needing a new contractor to manufacturer for them.
Alternatively, we can assist when a customer's current product needs to be upgraded to current technology, where it is also to be manufactured by "Wiltronics Manufacturing" for them under contract.
Manufacturing: Prototyping & Production

Some of Wiltronics Manufacturing's customers

Ballarat based, "Wiltronics Manufacturing" production facilities produce medium and high technology products. The division only has small to medium size production capacities. However, most new products are now microprocessor based and utilise surface mount technology (SMT). SMT uses robotic circuit board assembly, which can increase production capacity when needed.
By manufacturing in Australia, clients can be assured that product quality is of the highest standard, their IP is protected, and it is looked after with integrity and confidentially.
Some of the Industries "Wiltronics Manufacturing" has been or is currently servicing includes:
Mining
Rail
Automotive
Industrial
Forestry
Educational
Farming / AG
Telecommunications
Computer / IT
Security
A number of contract manufactured products have or still are being exported by the company's customers.
For inquiries please contact: manufacturing@wiltronics.com.au