Power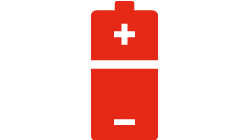 Welcome to Wiltronics' power category, your ultimate destination for all your power-related needs. We offer a comprehensive range of high-quality power products, including batteries, enclosed and DIN rail power supplies, and UPS's, all sourced from top-rated manufacturers for maximum reliability and efficiency.
Our batteries come in a variety of chemistries and sizes, ensuring that you can find the right battery for your application. We offer lithium-ion, lead-acid, nickel-metal hydride, and alkaline batteries, among others.
Our enclosed and DIN rail power supplies are designed to provide stable and efficient power for a variety of applications, including industrial automation, building automation, and instrumentation. With a range of power outputs and input voltages available, you can easily find the perfect power supply to suit your needs.
In addition, we also offer a variety of uninterruptible power supplies (UPS's), designed to provide reliable backup power in the event of a power outage. Whether you need a UPS for your home office or a data centre, we have the products to meet your needs.
At Wiltronics, we are committed to providing excellent customer service, so if you have any questions or concerns about our products, please don't hesitate to contact us. Start browsing our power category now and find the perfect power solution for your needs.