IEC Laboratory Power Supply (LB2643-001)
PS1695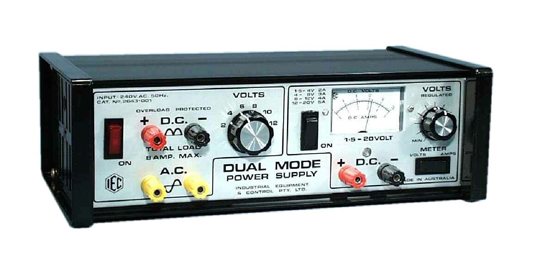 Description
This very popular IEC "Dual Mode"Laboratory Power Supply combines both AC/DC switched and DC smooth and regulated power outputs. It is suitable for both general lab work and electronic studies where a smooth and regulated output is necessary. Overload protection is automatic for both modes of operation. The meter on the regulated section can be switched to monitor either output volts or output amps. The switched section provides AC and DC at 2, 4, 6, 8, 10 and 12V at 8A and the regulated section provides 1.3V to 20V.DC. at 5A reducing to 2A at the lower voltages.
Features
Great for general lab work or electronic studies
Automatic overload protection
Monitor either output volts or output amps on front meter
Specifications
Mode 1 (Left side of front panel). For general purpose, unmetered and unregulated.
AC Output
Switch selected 2, 4, 6, 8, 10, 12 VAC (nominal voltages) at 8 Amps output continuous OR at 10 Amps output intermittent at 50% duty cycle (10 min. ON/10 min. OFF)
DC Output
Switch selected 2, 4, 6, 8, 10, 12 VDC (nominal voltage) at 8 Amps output full wave rectified, unfiltered.
Protection
Both AC and DC outputs are protected by internal automatically resetting thermal overload, with audible 'click'.
Mode 2 (Right side of panel). Metered and Regulated output. For electronic experiments and other purposes where a ripple-free DC output is required. Provides a fully adjustable and electronically regulated DC output, electronically filtered to better than 10mV ripple, Peak to Peak, at full load.
Output Voltage
1.3 to 20 VDC. Fully adjustable.
Regulation
Better than 1% voltage fluctuation from no load to full load.
Output Current
1.3-4VDC - 2 Amps max. 4-8VDC - 3 Amps max. 8-12VDC - 4 Amps max. 12-20VDC - 5 Amps max.
Protection
If more current is drawn than the limit on maximum current, the regulator chip will heat and will shut itself down to self-protect. The output will then fall to a very low voltage. When the load is removed, the regulator chip will cool and normal operation will return.
Metering
The moving coil meter on the front panel can be switched to monitor either the regulated DC output voltage or the load current.
Switching
The regulated DC output can be switched ON and OFF without affecting the set voltage value.
Dimensions
325mm (L) x 180mm (D) x 110mm (H)
Resources
You Might Also Like
All prices are in Australian Dollars and include GST. GST will be removed from your order if you are ordering from outside Australia.
Products may differ from pictured.
All trademarks and trade names are the properties of their respective owners. Wiltronics disclaims any proprietary interest in trademarks and trade names other than its own.
IEC Laboratory Power Supply (LB2643-001)
PS1695
$
539.00