5 in 1 Sensor Environmental Digital Multimeter
ME38210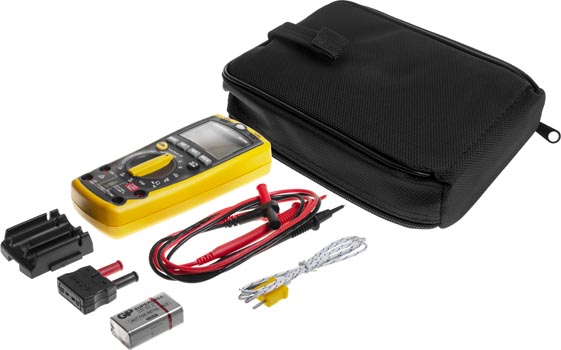 Description
Use this Multifunction Digital Multimeter to measure environmental conditions, such as: sound & light levels, indoor humidity and temperature. Ideal for use in sever rooms, construction sites, factories, laboratories, greenhouse / hydroponics, archive & storage areas, and anywhere environmental conditions need to be considered. Take light readings of various spaces and compare them to the recommended levels listed in the manual. The multimeter also features non-contact voltage detection, and measures both AC & DC voltage and current.
Features
Light Meter
Sound Meter
Relative Humidity
Autoranging
Non-Contact Voltage Detection
AC/DC Voltage
AC/DC Current
Resistance
Capacitance
Frequency
Continuity
Duty Cycle
Temperature
Diode Test
Relative Measurement
Data Hold
Backlight
Auto Power Off
Specifications
DC Voltage
0V, 400mV, 4V, 40V, 400V, 600V ±0.7%
AC Voltage
0V, 4V, 40V, 400V, 600V, ±1% (True RMS)
DC Current
40mA, 400mA, 10A ±0.5%
AC Current
40mA, 400mA, 10A ±1.5%
Resistance
400R, 4K, 40K, 400K, 4M, 40M ±1.2%
Frequency
9.999Hz, 99.99Hz, 999.9Hz, 9.999KHz, 99.99 KHz, 199.9KHz-200KHz ±0.5%
Capacitance
4nF, 40nF, 400nF, 4μF, 40μF, 200μF
Temperature
-20°C - 1000°C ±1.0% (Two Ranges)
Sound Level
35 - 100 dB (0.1dB/3.5%)
Luminance
Lux (4,000) - 10X Lux (40,000) 5.0%
Included
1 x Multimeter
1 x Test Leads
1 x K-Type Thermocouple
1 x 9V Battery
1 x User Manual
You Might Also Like
All prices are in Australian Dollars and include GST. GST will be removed from your order if you are ordering from outside Australia.
Products may differ from pictured.
All trademarks and trade names are the properties of their respective owners. Wiltronics disclaims any proprietary interest in trademarks and trade names other than its own.
5 in 1 Sensor Environmental Digital Multimeter
ME38210
$
139.00