IEC Switchable Power Supply 5 Amp (LB2633-001)
PS1690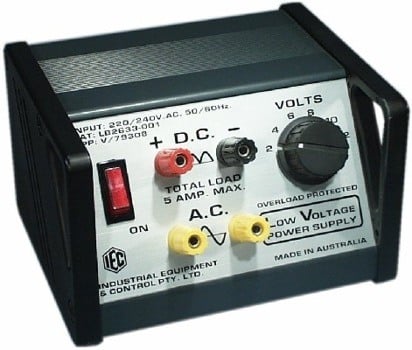 Description
This famous IEC Power Supply is a compact, general purpose power supply to provide switched AC and DC voltages at 2, 4, 6, 8, 10 and 12V.AC and DC up to 5A. The DC output is full wave rectified but not filtered. Still the original and the best!
Features
Sloping front panel for ease of use
Built in handles
Compact and robust general purpose power supply
Specifications
Input
220/240VAC 50/60Hz 0.5 Amp. Standard removable mains cable.
On/off
Illuminated mains on/off rocker switch.
Output AC
Switch selected 2, 4, 6, 8, 10, 12VAC (nominal) at 6 Amp continuous.
Output DC
Switch selected 2, 4, 6, 8, 10, 12VDC (nominal) full wave rectified and unfiltered 5 Amps continuous
Protection
Overload and short circuit protection is by an audible, internal, automatically self-resetting thermal overload.
Dimensions
160mm (L) x 110mm (W) x 83mm (H)
Resources
You Might Also Like
All prices are in Australian Dollars and include GST. GST will be removed from your order if you are ordering from outside Australia.
Products may differ from pictured.
All trademarks and trade names are the properties of their respective owners. Wiltronics disclaims any proprietary interest in trademarks and trade names other than its own.
IEC Switchable Power Supply 5 Amp (LB2633-001)
PS1690
$
165.00