What Is a Set Top Box? Here's What You Should Know
September 14, 2021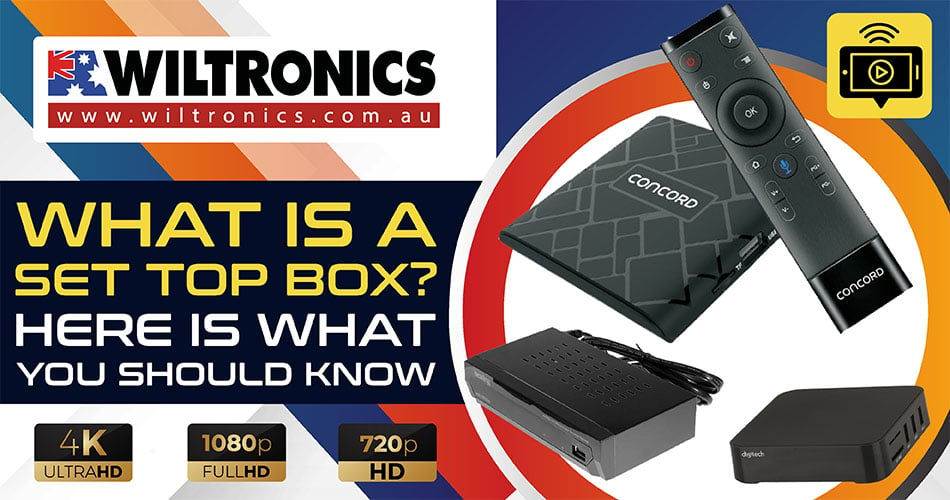 Are you into streaming series or movies on your television? Then you need a set top box in your home entertainment set-up!
Having access to on-demand digital content, including your favourites, like TV shows and movies is great. Especially with a television that supports high definition.
This is what a set top box is for. It converts video content to analogue or digital TV signals.
But other than that, what does it do?
What Is a Set Top Box?
Also known as a set top unit, a set top box is a cable box that enables users to view video content from video providers via the internet. They were originally used for satellite and cable television.
But now, its primary purpose is to stream movies and television series.
Set top boxes also allow TV sets to convert a digital television (DTV) signal to analogue. This makes them the ideal solution for viewers who wish to use their analogue TV to receive digital broadcasts.
On top of that, they work by receiving and decoding DTV broadcasts that can be viewed on a conventional television set. They also let users choose from specific providers, then filter down to the video content they want to watch.
In other words, a set top box transmits numerous channel options to an auxiliary channel on the TV. Most set top box systems today rely on two-way communication, allowing the viewers to take advantage of the interactive features.
This includes adding premium channels directly from the device and integrating internet access.
The difference between a cable box, set top box, and satellite receivers
A cable box is an electronic device that converts digital television signals to analogue. Meanwhile, a satellite receiver receives and decodes radio signals suitable for TV viewing wirelessly.
A set top box enables a TV set to receive and decode digital television (DTV) broadcasts. As mentioned above, it's a handy device for those who want to use their analogue TVs to receive digital broadcasts.
Types of Set Top Box
Shortened to STB, a set top box is similar in size and shape to a video cassette recorder (VCR). It tunes into, receives and decodes HDTV signals.
HDTV signals can come from over-the-air broadcasts, digital satellites, or digital cables. But be careful when shopping for a STB as there are several types available on the market.
Listed below are the common kinds of STBs:
HDTV tuners. This device tunes in, receives and decodes free over-the-air HDTV and DTV signals with an antenna.
DirectTV receivers. It tunes in, receives, and decodes digital satellite signals with a satellite dish.
All-in-one receivers. For this type of STB, it tunes in, receives and decodes both over-the-air and digital satellite HDTV and DTV signals. It requires both an antenna and a satellite dish.
Cable HDTV receivers. It tunes, receives, and decodes digital cable signals.
Features To Look Out For
To ensure you are getting the best set top box unit for your home entertainment needs, here are the features you should look out for.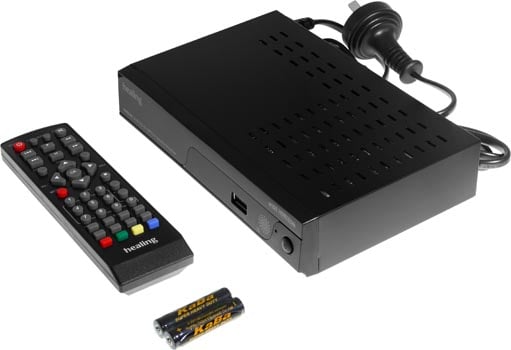 1. Storage
If you plan to use your set top box for streaming movies only, you may not need any storage. But if you have a collection of movies and a library of music, opt for a set top box with internal storage.
This is especially important if you want to store and play those files at the same time. You can keep the stuff you have built up onto the device and watch it all on your TV.
Another benefit you will get is to remove huge movie files off your computer. When shopping for one, look for a unit that comes with a couple of USB ports, as well.
Just like this Set Top Box with USB Recording (TV1052). It has a host of features, allowing you to enjoy an HD movie streaming experience!
What we like about this model is it also lets you record your favourite programs and even pause and rewind live TV. Plus, a remote control is included.
2. Digital Living Network Alliance (DLNA)
DLNA allows you to access files from one device on another, including Apple devices. It replicates a lot of the best features of AirPlay.
Moreover, this feature enables you to grab files off your computer then send them to your TV—just like an iPad connecting to an Apple TV. You can get wireless capabilities like AirPlay with set top boxes and Blu-ray players.
3. Streaming quality
Nothing beats streaming the best-quality content when watching movies on your HD TV. There are a number of set top boxes that can stream 1080p and higher content, but this depends on the source.
For instance, not every device is able to stream Netflix at the highest quality. If the video quality is very important in your case, then you are going to like this 4K Android Media Player (JXC6012).
This device lets you browse the web, watch movies, and run apps and games. Connect to the Internet using a Wi-Fi/wired network or watch media from your USB hard drive, flash drive or SD memory card.
This advanced media player also allows you to watch your favourite media in either 1080P or 4K resolution.
4. Remote control
A set top box that comes with a remote control provides convenience. This is why many are looking for devices that can be controlled without walking up to the TV to change the channel.
With a remote, you can flip through your movie options, pick one, and watch it on the comfort of your couch. There are even smart media players (set top boxes) that feature voice assist, along with remotes.
This is a great feature and also comes in handy in case you lost your remote in the couch cushions. Take a look at this Concord Smart Media Player with Voice Assist (JXC6010).
This smart media player with a voice assist has all the things we've come to expect from a smart device. With 4K support, you will be able to take advantage of streaming services that offer high resolutions.
You also have voice assist when searching for content on Youtube and more! Connect this up to your home network storage and it becomes a one-stop media centre for music and video.
Plus, it features a LAN port and wifi connectivity. An easy menu system also allows you to enjoy what the net has to offer.
5. File support
Regardless of what model or brand of set top box you wish to buy, you will want to make sure that it can play your files. For one, there are some units that are not compatible with the AVI file type.
Given how common AVI files are in movie or video formats, this could be a problem if yours do not support it. MP4 and MOV video files tend to be universal, as well as JPG and PNG for pictures and MP3 for music.
But with other files, it could be hit or miss, so make sure the set top box unit you plan to invest in can support all the files you need. This HD DVB-T Set Top Box HDMI and Composite CVBS with Remote (TV2856) offers tons of flexible media player playable formats.
It is a good option to start with if you are looking for a giant collection of media through your streaming box. The formats it can support includes:
AVI
MP4
MOV
MP3
OGG
JPG
BMP
MPG
MPEG
VOB
TS
TRP
M2T
M2TS
MKV
DIVX
TP
DAT
FLV
This set top box provides a wonderful viewing experience on almost any display! Connection is easy, with your choice of HDMI and Composite outputs.
You may attach your USB storage device to enjoy the convenience of program recording, as well as pause and playback of live TV. You can also use it to Playback media files including movies, photos and music.
Plus, it comes with a remote for convenience.
The Bottom Line
It can be a bit challenging to find the perfect set top box for your needs. For one, there are a lot of things to think about before making your purchase.
But we hope this guide will help you with your buying decision down the line. Once you find a unit that supports all the ports, channels, and features you need, you are a step closer to finding the ideal set top box for you!
If you are looking for top-quality products, browse through our available set top boxes and media players here.
© Wiltronics Research Pty Ltd 2021