Frederiksen Alpha Particle Spark Detector
LQ0020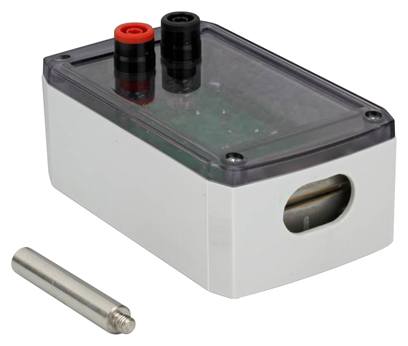 Description
The Frederiksen Alpha Particle Spark Detector gives clearly visible and audible responses to alpha radiation, allowing the demonstration of the ionization of air by alpha particles. It provides a relatively low cost, temperature-independent means of observing alpha particles as an alternative to the cloud chamber.
When the alpha particles ionize the air in the spark gap of the detector, a bright spark can be seen and heard. This apparatus is designed with a transparent lid to allow clear observation of the spark. The detector requires a connection to a safe high voltage (EHT) power supply with a voltage range of 0-5 kV or 0-6 kV. Normal operating voltage lies between 2 and 5 kV.
This Alpha Particle Spark Detector can be placed directly on the table or on a benchtop. The included threaded steel rod allows mounting in normal stand material. Requires a high voltage power supply available separately. Alpha radiation sources also recommended.
Lab activities could include observing alpha radiation from naturally occurring minerals, properties of alpha radiation (range in air, shielding by different materials), introduction to stopping power for ionizing radiation, and more.
A bright spark can be seen and heard when the alpha particles ionize the air in the spark gap of the detector.
Features
Detects alpha radiation from radioactive minerals
Demonstrates the ionisation of air by alpha particles
Gives clearly visible and audible response to alpha radiation
You Might Also Like
All prices are in Australian Dollars and include GST. GST will be removed from your order if you are ordering from outside Australia.
Products may differ from pictured.
All trademarks and trade names are the properties of their respective owners. Wiltronics disclaims any proprietary interest in trademarks and trade names other than its own.
Frederiksen Alpha Particle Spark Detector
LQ0020
$
308.00