Frederiksen SpeedGate
LQ0015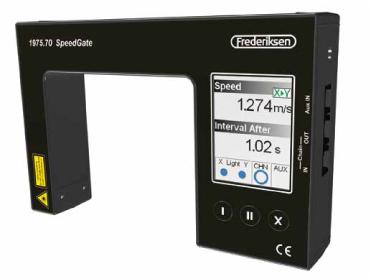 Description
SpeedGate is a dual-beam photocell with a built-in timer and display that is capable of precise speed measurement. The velocity of the object passing through the photocell can be determined directly with two light rays.  The display renders an external counter dispensable.
This device is battery powered - used on its own, no cables are needed. When used together, SpeedGates are connected with the included flat cable. It is operated with three push buttons controlling primary mode, secondary mode, and reset. The reset button also functions as a power switch. The primary and secondary modes each correspond to one part of the display.
Front Time: The time it takes the front edge of an object to pass from one light beam to the other.
Dark Time: The time the object blocks one of the light beams.
Speed: Measured as the distance between light beams divided by Front Time.
Period: Time between the current and the previous blocking of a light beam.
Pendulum Period: Like Period but drops every other passage.
Interval Before: A signal from another SpeedGate starts the time interval, blocking a light beam stops it.
Interval After: Blocking a light beam starts the time interval, a signal from another SpeedGate stops it.
Many of these functions can also be used with external equipment connected to the Aux input. A few of the numerous applications for this versatile tool include kinematics of constant accelerated movement, the free fall, Newton's second law, one-dimensional elastic and inelastic collisions, the mathematical pendulum and more.
Features
Double light barrier - direct readout of speed
Expandable with external sensors (like microphones)
Several SpeedGates can be daisy chained for extended experiments
You Might Also Like
All prices are in Australian Dollars and include GST. GST will be removed from your order if you are ordering from outside Australia.
Products may differ from pictured.
All trademarks and trade names are the properties of their respective owners. Wiltronics disclaims any proprietary interest in trademarks and trade names other than its own.
Frederiksen SpeedGate
LQ0015
$
470.80