Gold Leaf Electroscope
LQ1800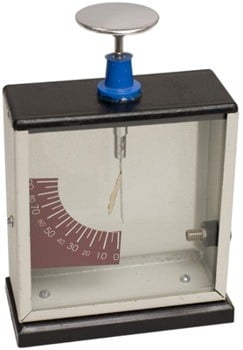 $
39.60
Out of Stock
| QTY | Price |
| --- | --- |
| 1 | $39.60 |
| 10 | $39.60 |
| 25 | $39.60 |
| 100 | $39.60 |
| 500 | $39.60 |
| 1000 | $0.99 |
Description
The gold leaf electroscope detects and measures static electricity or voltage. It measures the presence and magnitude of electric charge on a body for demonstrating electrostatics.
A metal disc is attached to a metal plate, and a thin piece of gold leaf is attached to the plate. The whole of this section of the electroscope is insulated from the body of the instrument. A glass-front avoids air draught and yet, it helps us to track the leaf's behaviour. When a charge is placed on top of the disc, it spreads to the plate and to the leaf. As a result, they will have the same charge.
This gold leaf electroscope has a very robust steel-framed box.
Dimensions
You Might Also Like
All prices are in Australian Dollars and include GST. GST will be removed from your order if you are ordering from outside Australia.
Products may differ from pictured.
All trademarks and trade names are the properties of their respective owners. Wiltronics disclaims any proprietary interest in trademarks and trade names other than its own.
Out of Stock
Gold Leaf Electroscope
LQ1800
$
39.60
| QTY | Price |
| --- | --- |
| 1 | $39.60 |
| 10 | $39.60 |
| 25 | $39.60 |
| 100 | $39.60 |
| 500 | $39.60 |
| 1000 | $0.99 |