Filmmaking Equipment: Gear Checklist to Start With
May 26, 2022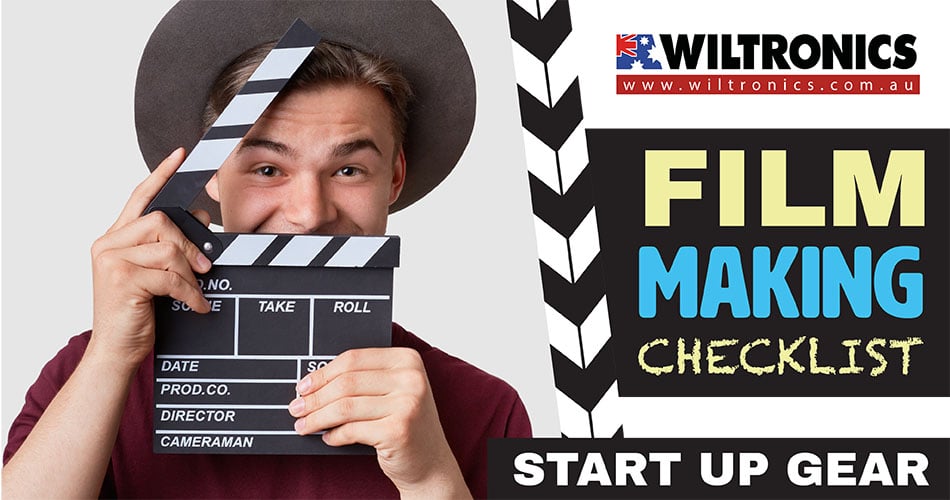 Video production is not complete without this filmmaking equipment checklist.
You can shoot a video with almost any camera and even film and edit it on your smartphone. But if you want to get more serious about making films, you need more proper gear.
Depending on what film you are making, various devices will be required. Regardless, there is some basic equipment you cannot do without. This applies to whether you are just starting out or an experienced filmmaker.
Here, we will go over a variety of basic and advanced filmmaking equipment for you to consider.
Filming
1. Cameras
Arguably the most important piece in your filmmaking kit — a video camera. It is the centrepiece of your filming gear.
Your choice of camera will depend on your budget and what kind of movies you want to make. You could start shooting with your phone, then upgrade to better cameras, or even rent one if you have to.
But if you would rather not use your smartphone and have a limited budget, a DSLR or mirrorless camera is your best bet. These types of cameras can still get you the high-quality image you're looking for.
For shooting events, news stories or documentaries, a camcorder is a more convenient choice. If money is not an issue here, consider investing in a professional camera to achieve that high-end cinematic look in your films.
2. Lenses
If you purchase an interchangeable camera like a DSLR, buy it with a kit zoom lens. Lenses can be a great investment, especially if your focus is narrative filmmaking.
The right kit lens will give you the cinematic and high-quality image you aim for.
3. Tripods
Having a steady image is crucial for maintaining that professional shot. Unless it is a stylistic choice, you do not want your footage to be shaky or slanted.
This is where tripods come into play. It is a piece of filmmaking equipment that allows for smooth pans, tilts, and steady shots.
Although some cameras have very effective built-in stabilisation, a tripod always comes in handy. Most filmmakers have at least one in their kit.
If you want to be able to pan and tilt your camera smoothly, you will need a fluid head tripod. Extra camera support equipment you may want to consider:
Sliders for smooth tracking shots
Electronic gimbal stabilisers for continuous flowing shots
Jibs for vertical camera movements
4. Sound and audio equipment
Sound is as important as pictures. Unfortunately, the in-built microphone in your camera will not cut it.
Using a separate microphone, such as a lavalier (lapel mic), will make a big difference. This accessory can clip onto clothes and is the most affordable way to get good sound.
Wireless units are perfect if you can afford them. A directional microphone on a boom pole is also a big plus!
Another one is the shotgun microphone. It features a long and narrow pick up pattern, ideal for capturing crisp sound.
5. Lighting Equipment
One of the most significant factors of filmmaking is lighting. Good lighting is what helps set the mood and tone and build breathtaking scenery.
Lighting can be very situational and can entirely depend on the type of film you are looking to make.
A nice pop of light from the camera can also help fill in ugly shadows. A camera light, for one, is nice to have, especially in a documentary or news style shoot.
LED panels are the most convenient option and excellent for filming on the go. But if you are shooting indoors, invest in a three-point lighting kit.
Editing & Extras
6. Computers
Choose a PC or laptop unit designed for video editing and is widely used in the film and media industry. From the monitors, all the way to the CPU, ensure the specs are good enough to run your editing software.
Video editing, particularly 4K, takes up a lot of space and needs a powerful computer. If you do not need to be portable, a desktop computer will be a better value for money than a laptop.
7. Storage
Whether a small or big project, it is always best to have enough storage, such as external drives. This is for backing up and archiving your projects.
If you are still unsure whether to invest in an SD card or not, read this Memory Cards guide and learn how they can benefit you at work.
8. Shock mounts
Any contact with the microphone creates a low-frequency rumble, also called structure-borne noise. The addition of a shock mount to your mic helps block that unwanted noise.
Simply put, it avoids ruining a good recording. At the same time, ensuring that the mic is protected from contact using suspensions.
This accessory is a must-have, particularly if you are using a boom pole.
9. Audio cables (XLR)
If you plan to use a professional audio set-up with your camcorder, you will need XLR cables. These adapters upgrade the audio capabilities of a basic camcorder to professional levels.
10. Portable digital audio recorder
Shooting a documentary with a DSLR requires an external mic or a portable audio recorder. This system offers better audio quality than smartphones, mainly for recording.
The best way to use one is to mount the mic on a boom pole and hoist it out of the shot's frame. This helps the portable audio recorder get as close as possible to the sound source. Best used with a shotgun microphone.
11. Headphones
To achieve great audio, you need to monitor the sound at all times while shooting carefully. And when it comes to editing, one of the best ways to control audio is by listening to it as you record.
This is where headphones come in handy. A good quality headphone set can help you maintain good audio quality.
Further, to uncover any areas of your recording that need improving. Simply, a good pair helps make the editing process a lot easier.
12. 2-3 extra batteries
One of the nightmares you do not want to happen is to run out of battery in the middle of your shoot. It is always best to have at least two to three camera batteries at all times.
Whether you are a beginner or an expert, you should always have an extra battery to remain active while filming. Shooting for more than 12-16 hours? Fully charge the first two batteries.
13. Action cameras
Action cameras cram the functionality and convenience you need for filming and crazy adventures into a compact package.
You can use it both for shooting pictures and recording videos. It also makes an excellent cam companion for shooting thrill-seeking adventures.
And it takes the best elements of a point-and-shoot camera, packed into a tiny, durable frame, to boot.
Shop Your Filmmaking Equipment Here!
Blackmagic Design provide professional products for digital cinema production and broadcasting. These Blackmagic Professional Cameras are high-performance studio cameras.
They are compact and lightweight, ideal for filming and live production. We offer a large selection, including DaVinci Resolve & ATEM Live Production Switchers.
Product code: CM8848
The Blackmagic Pocket Cinema Camera 4K has a 4/3 sensor and 13 stops of dynamic range. Plus, dual native ISOs up to 25,600 for HDR images and excellent low-light performance.
The provided external controls provide quick access to key functions. The 5-inch touchscreen also makes it easy to frame shots, focus, and change camera settings.
Among the features of the camera includes the following:
Built-in SD/UHS-II or CFast 2.0 recorders for Blackmagic RAW or ProRes recording
USB-C expansion port for recording externally to disks
MFT lens mount
Built-in microphones
XLR input, full-sized HDMI, 3D LUT support, and Bluetooth
Product code: CM8858
The next-generation digital film camera with professional broadcast camera features and controls! It offers a high-performance 4.6K HDR image sensor for shooting at up to 300 frames per second.
This digital film camera also features a Super 35mm 4.6K sensor with 15 stops of dynamic range. The built-in optical ND filter lets you quickly adjust the light entering the camera.
Further, an interchangeable EF lens mount can be swapped for optional PL, B4, or F mounts. Dual C-Fast cards for full resolution RAW recording, while dual SD cards for ProRes Ultra HD files.
Product code: CM8832
This Fiber Converter allows you to power up your URSA Broadcast camera from up to 2 kilometres away. The unit uses industry-standard SMPTE fibre optic cable and a  Studio Fiber Converter for a breakout.
It also includes common live camera controls with multiple channels of talkback. Plus, standard television industry talkback headset connections. Other features include 1 Ultra HD camera feed, plus 3 HD return feeds in a compact IP video-based design.
Looking for a bi-directional fibre optic interface for your Blackmagic Camera Fiber Converter? You might also like this Blackmagic Studio Fiber Converter (CM8851)!
Product code: CM8872
This HDR adds professional monitoring and recording to any SDI or HDMI camera in all HD, Ultra HD, 2K, and 4K DCI formats. Features super-bright 2500nit 7-inch HDR monitor that supports 3D LUTs.
DaVinci Resolve and Fusion Software – the most powerful software tool for professional editing, colour correction, audio post, and visual effects. Its elegant, modern interface is simple enough for new users to learn while being powerful enough for professionals.
Check out our extensive range of editing products compatible with DaVinci Resolve and Fusion Software here.
ATEM Live Production Switchers let you create stunning multi-camera live productions! ATEM switches between SD, HD, and Ultra HD video standards.
This allows you to create exciting live productions with a variety of video sources such as computer slide shows or animation. Our range of Live Production Switchers from ATEM includes:
ATEM Mini & 1 M/E Advanced Panel and Production Studio 4K
ATEM Television Studio Pro 4k & Constellation 8K
Filmmaking Equipment: The Bottom Line
Having no clue about the specific 'gear for filming,' you need can hinder you from getting started. This particularly happens with rookies.
Fortunately, in this modern age of technology, filmmaking has become more digitised and accessible. It is now a lot easier for movie production to become a reality – all thanks to this filmmaking equipment!
Choosing your filming gear should take place during the pre-production phase. Our filmmaking equipment list is sure to give you a hand with a great filming experience.
© Wiltronics Research Pty Ltd 2022