Tekky Bump Detection Buggy Kit using PICAXE 14M2 (Soldering Required)
KI2138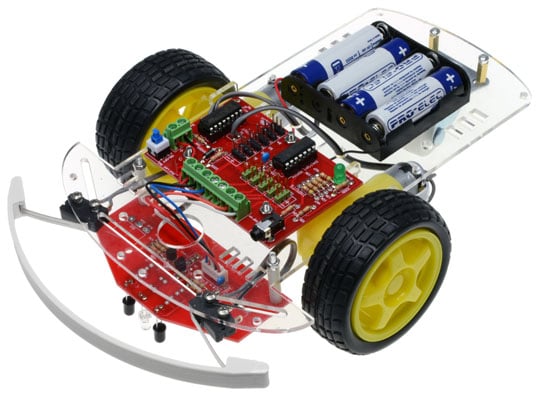 $
44.95
| QTY | Price |
| --- | --- |
| 1 | $44.95 |
| 10 | $39.95 |
| 25 | $36.00 |
Description
Get building with the Bump Detection Buggy Kit! What's more this 2 in one kit not only detect bumps, but also has a line tracking mode! This means that when you activate Line Tracking mode the robot will follow a line using its  sensors. Whereas, when you activate Bump Buggy mode the robot will respond when its front bumper detects a collision. Once it detects a collision, the robot will respond by reversing and correcting its course.
Further, your Line Bump Detection Buggy Kit is supplied with two PCB's, a a Project Board PC9138 using a PICAXE 14M2 microprocessor and a L293D dual motor driver chip. This means the second PCB PC9138S is supplied in your kit allows you to use  both Infrared (Line Tracking) and Microswitches capabilities.
This project is perfect for educational use, teaching students how to assemble the buggy and program its Line Tracking and Bump Buggy functions.
Soldering Required
NOTE: Picaxe® is a registered Trademark of Microchip Technology Inc. This Line Tracker / Bump Buggy project KI2138 remains the copyright of Rob Ward and Wiltronics Research Pty. Ltd. And is produced and distributed by Wiltronics Research Pty. Ltd. It is not a 'Picaxe' product or a product of Revolution Education.
Features
Bump Buggy mode - robot navigates areas and avoids obstacles
Line Tracking Mode - robot follows lines using infrared LEDs and sensors
Great for educational use - learn to assemble and program the robot
Specifications
Power
4 X AA Batteries (not included)
Dimensions (assembled)
240mm (L) x 164mm (W) x 67mm (H)
You Might Also Like
All prices are in Australian Dollars and include GST. GST will be removed from your order if you are ordering from outside Australia.
Products may differ from pictured.
All trademarks and trade names are the properties of their respective owners. Wiltronics disclaims any proprietary interest in trademarks and trade names other than its own.
Tekky Bump Detection Buggy Kit using PICAXE 14M2 (Soldering Required)
KI2138
$
44.95
| QTY | Price |
| --- | --- |
| 1 | $44.95 |
| 10 | $39.95 |
| 25 | $36.00 |