Edison Robot V2.0 Compatible with LEGO® Bricks
RO-EDISON-02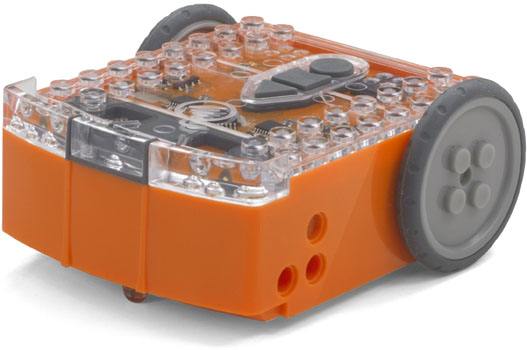 $
58.95
| QTY | Price |
| --- | --- |
| 1 | $58.95 |
| 4 | $52.00 |
| 10 | $49.00 |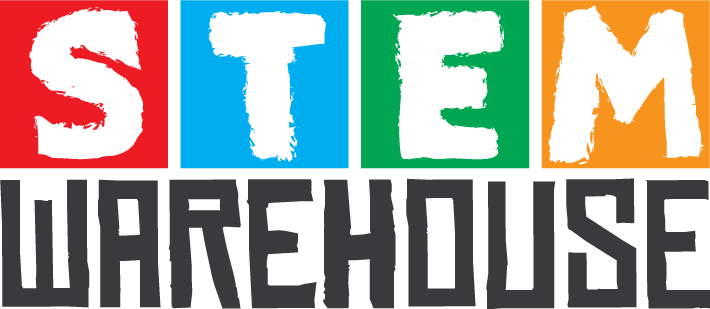 A division of Wiltronics
Description
Edison is a robot capable of many different functions, which are accessible by driving him over barcodes. You can download and print these barcodes for free, along with other free downloadable resources including line mats, lesson plans, programming software, and Edbooks containing new barcodes and functions. Use these barcodes to turn Edison into a line tracker, remote control vehicle, sumo wrestler and more!
Besides the pre-programmed barcode functions, Edison can also be programmed using several pieces of FREE downloadable software, aimed at different levels of learners:
For basic learners: EdBlocks, a 'scratch-like' platform for Edison based on a collection of graphical "programming blocks" children snap together to create programs. This allows younger learners to build the knowledge and confidence necessary to start coding.
For intermediate learners: EdScratch software, which uses a flowchart-like drag-and-drop interface to create instructions, loops and logic for Edison to interpret. EdScratch is available as an online app.
For advanced learners: EdPy. Edison is now programmable in Python. EdPy is designed to extend Edison's functionality and teach higher level programming concepts. EdPy maximises the potential of Edison's wheel encoders and gives users superior control of Edison.
These programs can be downloaded to Edison using the included EdComm cable, which plugs into your computer's headphone jack and carries a pulsed audio signal to a high-efficiency LED. The LED converts the pulsed audio signal into light that is received by Edison's line tracker phototransistor and loads the program into the processor.
Note: A firmware update is available for V1 Edison robots, which will make them compatible with EdBlocks and EdPy. Enter the serial number on your V1 Edison robot in the Firmware Checker and follow the guide to update your Edison. V2.0 Edison robots are already compatible with EdPy and EdBlocks.
Note: Alkaline batteries recommended.
LEGO® is a trademark of the LEGO Group, which does not sponsor, authorise or endorse this website or the Edison Robot or accessories.
Features
Drive over barcodes to teach Edison new functions, like line tracking, obstacle avoidance and more
Make use of free downloadable resources to enhance your experience
Several ways of programming for beginner, intermediate and advanced learners: EdBlocks, EdScratch and EdPy
Build onto Edison with building bricks (Edison is compatible with LEGO® bricks) for extra functionality
Clutch system prevents damage to the internal gears even under the most aggressive punishment
Long battery life thanks to high quality components and power-saving sleep mode
Precise obstacle detection that can be calibrated for longer range sensing
Wheel encoders enable Edison to drive very straight at specific speeds, distances and angles
Specifications
Processor
Freescale 8-bit MC9S08PA8VLC
Power
4 x AAA batteries (UM 4) (Alkaline batteries recommended)
Dimensions
75mm (W) x 80mm (L) x 39mm (H) (including wheels)
Obstacle detection
Infrared using 2 IR LEDs (front left and right) and IR receiver module (doubles as IR receiver)
Remote control
IR receiver module (38kHz) Edison can learn IR codes from most standard TV/DVD remote controls
Infrared data communication
IR receiver module (double as obstacle detection sensor and IR remote receiver)
Line tracker
Red LED and phototransistor (doubles as barcode reader and programming port)
Light sensors
2 phototransistors (front left and right)
Sound sensor
Piezo transducer (doubles as sounder)
Drive
Differential drive system with encoders to control speed and distance
Infrared data communication
2 infrared LEDs (double as obstacle detection sensor)
Sound
Piezo buzzer (doubles as sound sensor)
Lights
2 red LEDs (Front left and right)
Resources
You Might Also Like
Made an Edison project you're proud of? Post a photo or video to our Meet Edison Facebook Page to share your project with other Edison creators! Or just like the page to join the Edison community.
All prices are in Australian Dollars and include GST. GST will be removed from your order if you are ordering from outside Australia.
Products may differ from pictured.
All trademarks and trade names are the properties of their respective owners. Wiltronics disclaims any proprietary interest in trademarks and trade names other than its own.
Edison Robot V2.0 Compatible with LEGO® Bricks
RO-EDISON-02
$
58.95
| QTY | Price |
| --- | --- |
| 1 | $58.95 |
| 4 | $52.00 |
| 10 | $49.00 |