Picaxe Microbot Robotic Kit
P-BOT120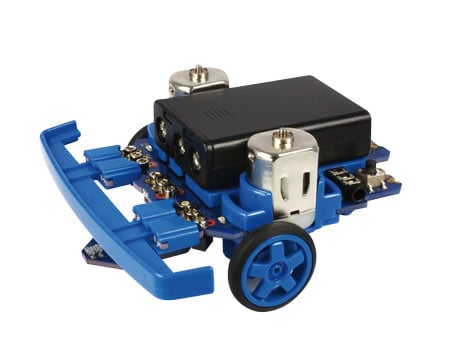 $
139.00
Out of Stock
| QTY | Price |
| --- | --- |
| 1 | $139.00 |
| 10 | $122.00 |
Description
The BOT120 PICAXE 20X2 Microbot is a simple to assemble kit that uses a unique design which requires no soldering of wires to build and/or reconfigure a versatile robot.
At the heart of the Microbot is a motherboard which contains a powerful PICAXE 20X2 microcontroller which can be programmed using flowcharts using the Logicator for PICAXE software or in the PICAXE BASIC language. The Microbot can be programmed on Windows, Linux and Mac computer systems. Programs are downloaded via the AXE027 USB cable (purchase separately).
The Microbot motherboard is also fitted with a battery box, 2 motors to create movement, a piezo sounder to make sounds, two LED eyes, a push switch and a download socket for connecting the AXE027 USB programming cable.
Various input/output modules can also be easily connected to the motherboard via the unique patented microbric edge and connector bric. A microbric edge consists of three conductors (+ V, 0V and Data). The plastic bric is used to connect two microbric edges together and then clamping nut/bolts are used to complete the electrical connection and to physically hold the assembly together.
The starter pack contains a number of modules including bumper, line tracker, pen holder and a servo connector. Other sensor modules are also available separately in add on packs, for instance the BOT121 sensors pack contain an infra-red sensor module to receive commands from a TV style remote control, two LDR light sensor modules and an infrared transmitter module.
Features
Microbric connectors between each module, allowing them to be mixed and matched
2 reversible motors
Peizo sounds producer
Line tracker module
Can be controlled by remote
PICAXE 18 X2 microcontroller
Onboard USB data transfer socket
Uses a microbric edge on the modules to allow quick changing
Resources
You Might Also Like
All prices are in Australian Dollars and include GST. GST will be removed from your order if you are ordering from outside Australia.
Products may differ from pictured.
All trademarks and trade names are the properties of their respective owners. Wiltronics disclaims any proprietary interest in trademarks and trade names other than its own.
Out of Stock
Picaxe Microbot Robotic Kit
P-BOT120
$
139.00
| QTY | Price |
| --- | --- |
| 1 | $139.00 |
| 10 | $122.00 |