IEC Hodson Induction Kit
LQ1973-001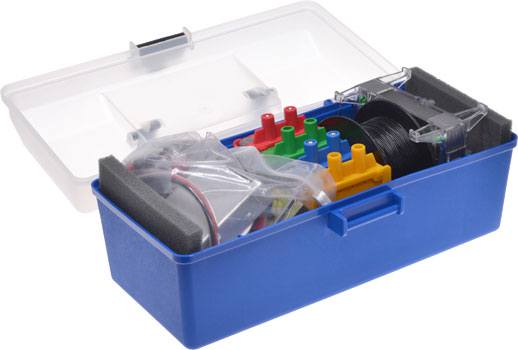 Description
The Hudson Induction Kit is a set of parts that enable the student to experiment on aspects of Magnetic Induction, Transformers, and AC/DC Motor theory. It runs on 12V for safety purposes and includes a comprehensive list of components. A complete Squirrel Cage induction motor is part of the kit for study and understanding the common style of AC motor. A manual of experiments includes transformer theory, magnetizing currents, electromagnets, electric motor and generator theory, losses in iron circuits, eddy currents, synchronous motors, mutual induction, the effect of laminations, and much more.
WARNING: For safety, mains voltages are NOT used. Please supervise this.
Features
Learn both AC and DC electromagnetic induction
Runs on 12V for safety
Includes large range of parts, plus a manual of experiments
Dimensions
Resources
You Might Also Like
All prices are in Australian Dollars and include GST. GST will be removed from your order if you are ordering from outside Australia.
Products may differ from pictured.
All trademarks and trade names are the properties of their respective owners. Wiltronics disclaims any proprietary interest in trademarks and trade names other than its own.
IEC Hodson Induction Kit
LQ1973-001
$
266.00