IEC Electrostatics Kit Nuffield
LQ1771-001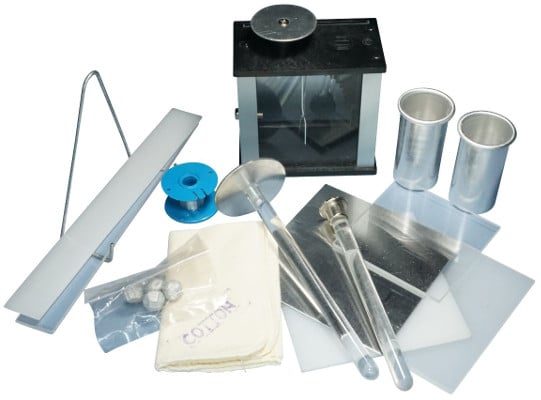 Description
This IEC Electrostatics Kit Nuffield type is a more comprehensive kit for electrostatic teaching. For more advanced experiments, it includes an IEC metal vane electroscope and other components.
Included
1 x Proof Plane on insulated handle 20mm diameter
1 x Electrophorus with insulating plates 50mm diameter
4 x Pith Balls (coated with a conductive film)
1 x Nylon Filament for suspending pith balls x25m
2 x Aluminium Cans 60x30mm diameter
2 x Polythene Tiles for insulation 100x100x3mm thick
1 x Polythene Strip 200x25x3mm thick
1 x Acrylic Strip 200x25x3mm thick
1 x Wire Stirrup for supporting insulating strips
1 x Rubbing Cloth, flannelette 150x150mm
Resources
You Might Also Like
All prices are in Australian Dollars and include GST. GST will be removed from your order if you are ordering from outside Australia.
Products may differ from pictured.
All trademarks and trade names are the properties of their respective owners. Wiltronics disclaims any proprietary interest in trademarks and trade names other than its own.
IEC Electrostatics Kit Nuffield
LQ1771-001
$
121.00