Powershield Defender PSD1600 1600VA UPS
ATD0883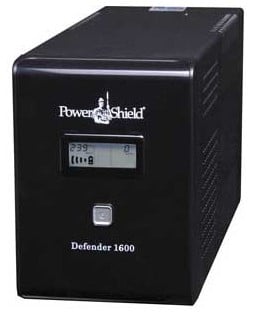 Description
The Powershield Defender PSD1600 1600VA UPS offers both battery backup and surge protection via Australian output sockets. It supports multiple computers and peripherals, networked PCs, and point of sale systems.
The UPS will keep the PC running in the event of a power interruption. Thus allowing you to save work and safely shut down the system. To avoid harming the program or data on the computer, it must be shut down in a specific manner. A computer can be safely shut down in the event of a power outage by using a UPS and the software that comes with it. Depending on the connected load, backup can take up to 40 minutes.
This Powershield Defender 1600VA is small in size making it ideal for use at a desk.
Features
Line-interactive smart AVR
Three Australian outlets
USB communications with sophisticated PowerShield NetGuard software
Full-time power surge/spike protection
Modern, stylish steel enclosure
Ultra reliable
Specifications
Powershield P/No
Powershield Defender 1600
Battery backup capacity
1600VA
nput voltage (nominal)
240V AC Input
Dimensions
Resources
You Might Also Like
All prices are in Australian Dollars and include GST. GST will be removed from your order if you are ordering from outside Australia.
Products may differ from pictured.
All trademarks and trade names are the properties of their respective owners. Wiltronics disclaims any proprietary interest in trademarks and trade names other than its own.
Powershield Defender PSD1600 1600VA UPS
ATD0883
$
375.00