Powershield Defender PSD650 UPS 650VA 350W 240VAC LCD
PS6216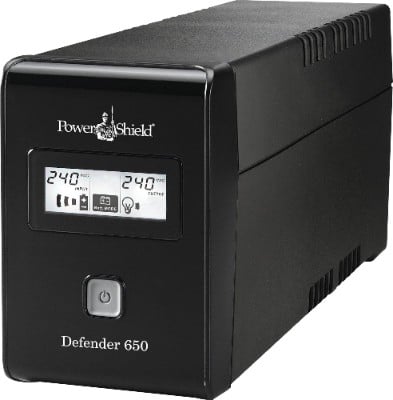 Description
The Powershield Defender PSD650 UPS 650VA can power multiple computers and peripherals, as well as networked PCs and point-of-sale systems. This UPS will allow the PC to continue operating in the event of a power failure, so you can save work and safely shut down the system. It also automatically shut down the computer safely by using this UPS and the included software. Backup time up to 10 minutes depending on the connected load. It has a compact design and is ideal for under-desk operation.
2 year warranty
Features
Stylish and informative LCD display
Surge Protection, Best in it's Class
Excellent microprocessor control guarantees high reliability
Australian outlet sockets for UPS and Surge protection
Buck and boost AVR for voltage stabilization
User-replaceable batteries
Silent operation (no fans included)
Auto-restart when AC returns.
Off-mode charging
Cold start function
USB communication with sophisticated NetGuard® software
Free download software included
Specifications
Frequency Range
50/60Hz ±5Hz (Auto sensing)
Output Voltage
240Vac ±10%
Frequency
AC mode tracks utility
Frequency Range (Batt. Mode)
50Hz or 60Hz ±1Hz
Transfer Time
6ms (Typical)
Waveform (Batt. Mode)
Simulated Sine Wave
Australian outlets- UPS & surge protection
2
Battery Type & Number
12V*9AH (x1)
Typical Recharge Time
6 hours recovery to 90% capacity
Backup Time (50% Load)
6min
Full Protection
Overload, discharge, thermal, short circuit, and overcharge protection
Surge Protection
312Joules / 6500 Amps
Communications & Management
Software
NetGuard® supports Windows®, Linux, Unix & MAC (Free Download)
LCD Alarm
AC Mode, Battery Mode, Low Battery (Batt. Mode), Fault, Overload
Audible Alarm
Battery Mode, Low Battery (Batt. Mode), Fault, Overload
Humidity
0 - 90% (RH Non-condensing)
Noise Level
<5dB (no fan)
Compliance
(A-tick PSD650) EN62040-1-1 2003 , IEC60950-1 : 2001 , EN62040-2 2006
RoHS
Directive 2011 / 65 / EU
Dimensions
Resources
You Might Also Like
All prices are in Australian Dollars and include GST. GST will be removed from your order if you are ordering from outside Australia.
Products may differ from pictured.
All trademarks and trade names are the properties of their respective owners. Wiltronics disclaims any proprietary interest in trademarks and trade names other than its own.
Powershield Defender PSD650 UPS 650VA 350W 240VAC LCD
PS6216
$
149.00