EtherMega, Arduino Compatible By Freetronics
ARD4256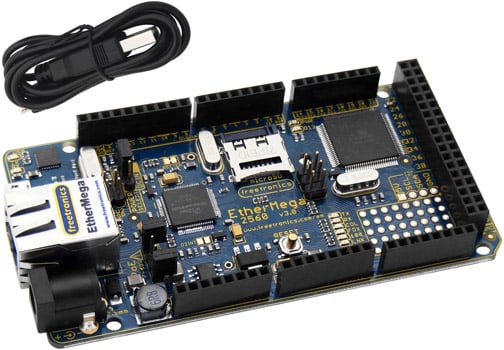 $
119.00
| QTY | Price |
| --- | --- |
| 1 | $119.00 |
| 5 | $110.00 |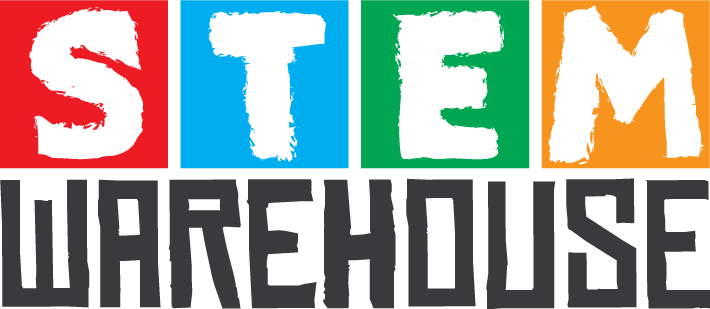 A division of Wiltronics
Description
The ultimate network-connected Arduino-compatible board: combining an ATmega2560 MCU, onboard Wiznet-based Ethernet, an ATmega8u2 USB-serial converter, a microSD card slot, and Power-over-Ethernet support, and even an onboard switchmode voltage regulator so it can run on up to 28V without overheating!
Amazing.
The EtherMega is a 100% Arduino Mega 2560 compatible board that can talk to the world. Do Twitter updates automatically, serve web pages, connect to web services, display sensor data online, and control devices using a web browser. The Freetronics EtherMega uses the same ATmega2560 as the Arduino Mega 2560 so it has masses of RAM, flash memory, and I/O pins, and also includes the same Wiznet W5100 chip used by the official Arduino Ethernet Shield, so it's 100% compatible with the Ethernet library and sketches. Any project you would previously have built with an Arduino Mega 2560 and an Ethernet shield stacked together, you can now do all in a single, integrated board.
We've even added a micro SD card slot so you can store web content on the card, or log data to it.
But it gets even better: we found space to squeeze in a small prototyping area, so now it's possible to build a complete, Internet-enabled Arduino device including your own custom parts all on a single board! You don't even need to use a prototyping shield for many projects.
Features
D13 Pin isolated with a mosfet so you can use it as an input
Reset management chip
Fixed SPI behaviour on Ethernet chipset
Robust power filtering
Gold Plated PCB.
Top and bottom parts overlays.
Top-Spec AT mega2560 MCU
Mini-USB connector: no more shorts against shields from the USB jack!
Switchmode voltage regulator for a wide input voltage range
Ethernet activity indicators on both the PCB and the jack.
10/100base-T auto-selection.
Fully compatible with standard Ethernet library
Specifications
MCU Type
Atmel ATMega2560
Input Voltage
7-28V DC Recommended
Digital I/O Pins
54 (14 provide PWM output)
Analog Input Pins
16 (analog input pins also support digital I/O, giving 70 digital I/O total if required)
Analog Resolution
10 bits, 0-1023 at 5V AREF is approx 0.00488V; 4.88mV per step
Current Per I/O Pin
40 mA maximum
Total Current For All I/O Pins
200mA maximum
Current For 3.3V Output
50mA maximum
Flash Memory
256 KB Flash Memory, of which 8 KB is used by bootloader
SRAM, EEPROM
8 KB SRAM, 4 KB EEPROM
microSD
microSD card slow with SPI interface.
Serial
4 x hardware USART, SPI (Serial Peripheral Interface), I2C
Ethernet
1x10/100 LAN port using the Wiznet w5100.
Other
Integrated USB programming and communication port. Many other one-wire, multi-wire, LCD and expansion devices supported by free code and libraries
Resources
You Might Also Like
All prices are in Australian Dollars and include GST. GST will be removed from your order if you are ordering from outside Australia.
Products may differ from pictured.
All trademarks and trade names are the properties of their respective owners. Wiltronics disclaims any proprietary interest in trademarks and trade names other than its own.
EtherMega, Arduino Compatible By Freetronics
ARD4256
$
119.00
| QTY | Price |
| --- | --- |
| 1 | $119.00 |
| 5 | $110.00 |