IEC Voltage Regulator Module Multi Output 1 Amp
LQ2646-001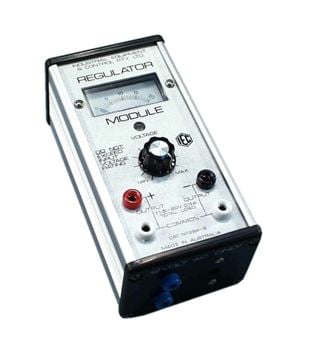 Description
This Dual Output IEC Voltage Regulator Module can be connected to any AC or DC power source and will convert the AC or unfiltered DC to a smooth, adjustable, metered and regulated dual positive & negative output of 1.2 to 20V.DC at 1A. Input and output is via 4mm sockets. The small meter monitors output voltage. If the input voltage is low, the output may not achieve 20volts. For 20 volts output, an input of close to 14V.AC is required.
Features
Converts AC or unfiltered DC to a regulated output
Small meter for monitoring output voltage
The DC output is automatically protected by internal electronics. If the output current is exceeded, the output voltage will reduce automatically to protect the circuitry.
Specifications
Input
Typically 12VAC 50/60Hz from plug pak (mains adaptor). Do not exceed 25VAC input. Up to 20VDC input can be used, but only the positive half of the output will be active.
Output (AC Input)
Dual output, ±1.2-20VDC regulated at 200mA continuous
Output (DC Input)
Single output, 1.2 - 20VDC regulated at 200mA continuous
Regulation
Better than 1% voltage fluctuation from no load to full load
Ripple and Noise
Better than 10mV ripple and noise at full load
Dimensions
137mm (L) x 75mm (W) x 65mm (H)
Resources
You Might Also Like
All prices are in Australian Dollars and include GST. GST will be removed from your order if you are ordering from outside Australia.
Products may differ from pictured.
All trademarks and trade names are the properties of their respective owners. Wiltronics disclaims any proprietary interest in trademarks and trade names other than its own.
IEC Voltage Regulator Module Multi Output 1 Amp
LQ2646-001
$
155.00