500A Battery Monitor with Shunt
KI2309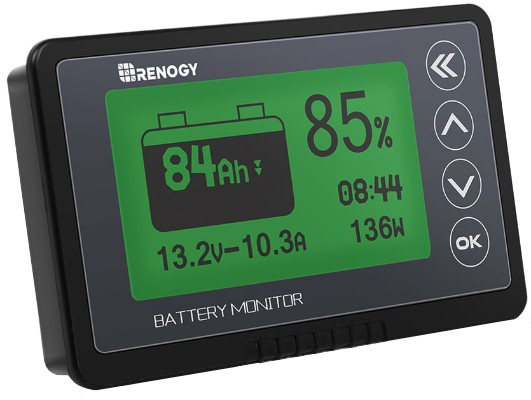 Description
The Battery Monitor with Shunt is able to monitor the amperage flowing out of the battery bank. Measures currents up to 500 Amps. It gives an accurate state of charge reading on the LCD screen such as the voltage, current, consumed power & battery capacity. It helps improve the overall performance and longevity of your battery bank.
Features
High precision current detection
High and Low Voltage Programmable Alarm - Backlight and voltage value will flash simultaneously
Data Storage - Designed to automatically store the last testing data when the system shuts off
Displays multiple electronic parameters (Voltage, Current, Consumed Power, and Battery Capacity)
20ft Shielded cable allows you to monitor the battery status from distance
Compatible with various types of battery: Lead Acid(AGM), Lithium Iron Phosphate, Lithium-ion, Nickel-metal hybrid
Universal Battery Monitor- Voltage range 10V-120V and up to 500A
Large backlit LCD Display
Transparent shunt holder makes it easier to mount the shunt
Accurate Battery SOC%
Specifications
Working Dissipation
10-15mA
Standby Dissipation
1-2mA
Backlight on current (50A)
30-60mA
Backlight on current (>50A)
100mA
Preset capacity value
.0.1-9999.0 AH
Temperature range
0-35 °C
Shielded Wire Length
20 ft/6 m
Certifications
ROHS - Yes / EMC - Yes
Dimensions
Resources
You Might Also Like
All prices are in Australian Dollars and include GST. GST will be removed from your order if you are ordering from outside Australia.
Products may differ from pictured.
All trademarks and trade names are the properties of their respective owners. Wiltronics disclaims any proprietary interest in trademarks and trade names other than its own.
500A Battery Monitor with Shunt
KI2309
$
109.99