50 Green Projects for the Evil Genius
PU2155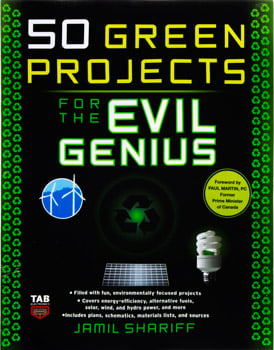 Description
This book looks at a variety of environmental technologies. It offers environmentally focused projects from disciplines ranging from biology to physics to architecture. Filled with over 100 illustrations, the book presents practical projects that can be built, assembled, or installed by the non specialist.
Provides you with all the plans and schematics you need to:
Dramatically improve the fuel efficiency of your car
Insulate the windows in your home
Build a worm compost bin
Audit your appliances with an energy meter
Build a water purifier
Set up a rainwater collection system
Create a solar water heater
Construct a homopolar motor
Assemble a solar module from PV cells
Create a wind turbine
Assemble your own weather-powered vehicle
Convert your car to biodiesel
Build a contained composite structure
And more!
Features
Step-by-step instructions for 50 environmentally friendly projects, complete with helpful illustrations
Shows you how to design, build and install your own creations
Allows you to customize each project for your purposes
Removes the frustration factor — all required parts are listed, along with sources
Filled with fun, environmentally focused projects
Covers energy-efficiency, alternative fuels, solar, wind and hydro power, and more
Includes plans, schematics, material lists, and sources
Specifications
Publisher
McGraw-Hill Education
Dimensions
You Might Also Like
All prices are in Australian Dollars and include GST. GST will be removed from your order if you are ordering from outside Australia.
Products may differ from pictured.
All trademarks and trade names are the properties of their respective owners. Wiltronics disclaims any proprietary interest in trademarks and trade names other than its own.
50 Green Projects for the Evil Genius
PU2155
$
35.95