LED Strobe Light with magnetic base 12/24VDC High Powered **OFF ROAD ONLY
JST3278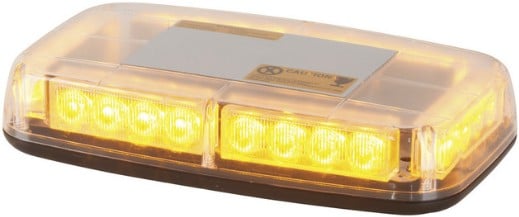 $
129.00
| QTY | Price |
| --- | --- |
| 1 | $129.00 |
| 5 | $115.95 |
| 10 | $102.95 |
Description
Keeping your vehicle safe on the site or drawing attention to an event - whatever your purpose - this LED Strobe Light with magnetic base is versatile and easy to install. Two strong magnets keep it securely on your roof, and a curly cable to cigarette lighter plug ensures that you can power it without any special wiring. 24 high-power amber LEDs are inside the secure plastic case - 6 banks of 4 LEDs each to be exact.
There are ten different display patterns, so for your case, you can pick the most attention-grabbing one. Modes include clockwise/anti-clockwise rotation, in/out fade, side to side, and more. Two rubber legs on the bottom of the unit cover strong magnets and secure your paintwork. However, if you want it to be permanently mounted, they unscrew for a clean, flush mount.
The cigarette lighter plug includes an on/off switch with an LED power indicator and a switch to choose the display mode. Please be mindful of any local regulations for the use of exterior lighting on cars, on and off public roads.
Flash Patterns:
There are 10 available flash patterns.
Rotating
Burst, Fade In-Out/Solid, Fade In-Out
Random
Burst, Alternating (Side to Side)
Burst, Alternating, Diagonal (Front to Back)
Burst, Dual Rotating
Burst Hold / Burst Side to Side
Burst Hold / Single Hold
Burst, Single Rotating
Burst, Single Rotating
Note: Press pattern button 0.5 seconds for the next pattern.
Specifications
Outdoor Light Type
Emergency Beacon
Vehicle or Vessel Powered
Vehicle Connection
Cigarette Lighter
Removable
Easily Removable
Ingress Protection Rating
Dust/Particle Ingress Protection
5 - Dust protected, protected but some dust may enter
Liquid/Moisture Ingress Protection
6 - Powerful water jets
Dimensions
Resources
You Might Also Like
All prices are in Australian Dollars and include GST. GST will be removed from your order if you are ordering from outside Australia.
Products may differ from pictured.
All trademarks and trade names are the properties of their respective owners. Wiltronics disclaims any proprietary interest in trademarks and trade names other than its own.
LED Strobe Light with magnetic base 12/24VDC High Powered **OFF ROAD ONLY
JST3278
$
129.00
| QTY | Price |
| --- | --- |
| 1 | $129.00 |
| 5 | $115.95 |
| 10 | $102.95 |