12V 5A SLA Battery Charger - Suits 20AH and above Batteries
BC1216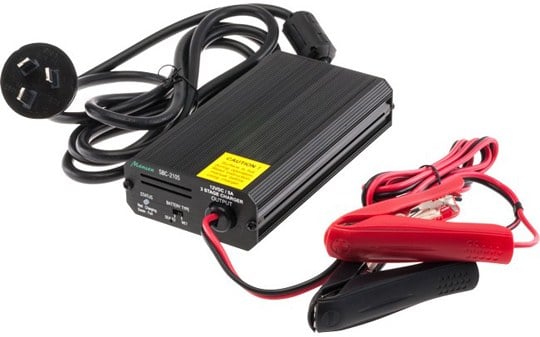 Description
This compact, robust and light weight battery charger gives a complete and fast charge to sealed and wet type of lead acid battery.
In the Bulk Charge Stage, it charges the battery at a constant maximum current until the battery voltage increases to a slightly higher level and switches to the Absorption Mode at which the battery is then kept at this voltage while the charging current decreases to a low value.
When the battery is fully charged, the charger is then switched to the Floated Charge voltage where it can be maintained indefinitely. At the Float Charge Mode, the charger will make up for the loss of self-discharge of the battery.
This charger has two selections to cover a wide range of sealed (VRLA) and the wet type of lead acid battery. In addition to the standard short circuit, over load, over temperature protections, it has electronic reversed polarity protection, output over voltage protection, and battery low voltage protection to prevent damage to the charger and the battery.
Features
3 Stage (IUOU) Switching Mode Lead Acid Battery Charger.
2 Selectable Bulk Absorption-Float Charge Settings for Sealed & Wet battery.
LED indicators for charging and Full/Float mode.
Protection to the battery. OVP (Over Voltage Protection) the charger will cut off output when output voltage is over 15.5V, this allows complete protection of the battery.
Protections to the charger and battery. Output Short Circuit, Over Load, Over Temperature, Reverse Polarity.
Battery Under-Voltage Protection. When voltage of the charged battery is less than 7.5V, the charger will stop charging the battery which may be of wrong rating (6V) or faulty or heavily exhausted battery
Wide Input Tolerance for fluctuating mains voltage.
Specifications
AC Input Voltage
180-260V 50Hz
AC Input Current at full load at 230VAC
0.8A
Output (Charge) Voltage Selections (2 Battery Type)
Sealed Battery Absorption
14.1V to 14.4V
Sealed Battery Float
13.2V to 13.5V
Wet Battery Absorption
14.1V to 14.4V
Wet Battery Float
13.4V to 13.7V
Max. Output Charging Current (Continuous)
5A
Line Regulation (180V to 260V) for Charging Current
0.6%
Ripple and Noise (Peak to Peak)
120mV
Efficiency at Maximum Power
84%
Short Circuit Protected
Yes
Reverse Polarity Protection
Yes
Over Temperature Protection
Yes
Output Over Voltage Protected (OVP)
Yes
Battery Under Voltage Protection
Yes (when battery voltage <7.5V, charger will stop charging battery)
CE Approvals and Standard
EN 60335, EN 55014
Charge Indication
1 LED, Red: Charging, Green: Full or Float
Anodised Aluminium Casting
Yes
Dimensions (W x H x D)
142 x 75 x 32mm
Included Accessories
2x Clip-on mounting brackets, 4x mounting screws, 4x push-on feet
Recommended Battery Capacity Range
20AH to 50AH
Resources
You Might Also Like
All prices are in Australian Dollars and include GST. GST will be removed from your order if you are ordering from outside Australia.
Products may differ from pictured.
All trademarks and trade names are the properties of their respective owners. Wiltronics disclaims any proprietary interest in trademarks and trade names other than its own.
12V 5A SLA Battery Charger - Suits 20AH and above Batteries
BC1216
$
89.95