Wall Plate S3 Premium AUS/NZ Style WPC4
AV7754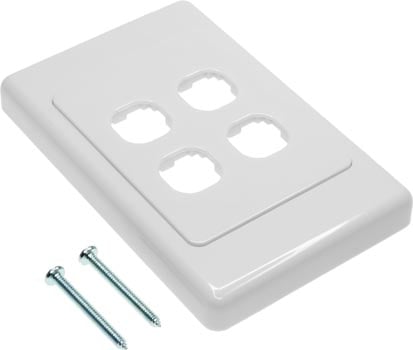 Description
Premium S3 wall plate with 4 gangs. Australian and New Zealand style.
Specifications
Wallplate Form
Standard Wall Plate
Wallplate Front Fitting Connection
Plug
Plate/Accessory Type
Keystone Base Plate (No fittings)
Wallplate Application
Cat5e
Wallplate Front Fitting Type
RJ45
Dimensions
You Might Also Like
All prices are in Australian Dollars and include GST. GST will be removed from your order if you are ordering from outside Australia.
Products may differ from pictured.
All trademarks and trade names are the properties of their respective owners. Wiltronics disclaims any proprietary interest in trademarks and trade names other than its own.
Wall Plate S3 Premium AUS/NZ Style WPC4
AV7754
$
5.95