Colour Recognition Sensor TCS230 Module Arduino Compatible
ARD2-2084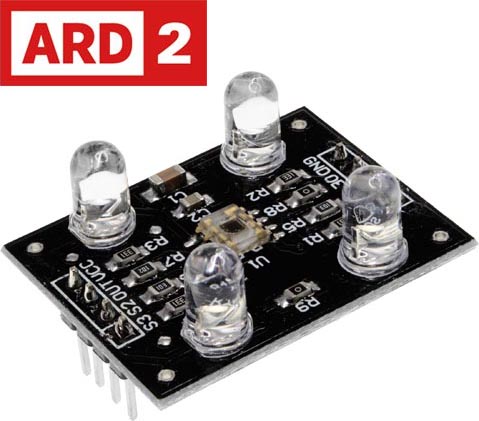 Description
TCS230 8-pin SOIC surface mount package, integrated on a single chip photodiode 64. These diodes are divided into four types, of which 16 photodiode with a red filter; 16 photodiodes with a green filter; 16 photodiodes with a blue filter; rest 16 without any filters, optical information can be all over. The photodiode chip is arranged in a cross, it is possible to minimize unevenness of the incident radiation, thereby increasing the accuracy of color identification; on the other hand, the same color of the photodiode 16 is connected in parallel, uniformly distributed the diode array, the position error can be eliminated color. Two programmable pins to dynamically select the desired filter. Typical output frequency range of the sensor from 2 Hz ~ 500 kHz, users can also choose two programmable pins to 100%, 20%, or 2% of the output scale factor, or power-off mode. The output scale factor can be adapted to different measurement ranges. For example, when using low frequency counters, you can select a small scaling value so that the output frequency and the counter TCS230 match.
Features
Can be connected directly with microcontroller
Static detection of the measured object colour
Specifications
Output Frequency Voltage
0 - 5V
Best Detection Distance
10mm
Dimensions
You Might Also Like
Made an Arduino project you're proud of? Post a photo or video to our ARD2 Arduino Facebook Page to share your project with other Arduino creators! Or just like the page to join the ARD2 community.
All prices are in Australian Dollars and include GST. GST will be removed from your order if you are ordering from outside Australia.
Products may differ from pictured.
All trademarks and trade names are the properties of their respective owners. Wiltronics disclaims any proprietary interest in trademarks and trade names other than its own.
Colour Recognition Sensor TCS230 Module Arduino Compatible
ARD2-2084
$
7.95