Tadiran 1/2 AA ER14252 Lithium Battery 3.6V Thionyl Chloride with PCB Pins
BA2253-A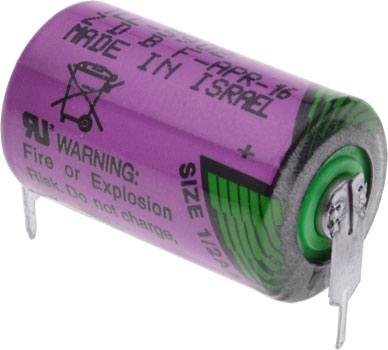 Description
These Tadiran 1/2AA lithium batteries are rated at 3.6V. They feature PCB pins, making them a convenient choice for many PCB-type applications. This battery has a single positive terminal and 8mm pcb spacing negative terminals as pictured. The iXtra series improves on the Xtra series in terms of long-term high performance - the result of decades of R&D, making these lithium thionyl chloride outperform their competitors.
Note: Cells should be stored in a clean & dry (less than 30 % RH) area
Features
3.6 V Primary lithium-thionyl chloride (Li-SOCl2)
Fast voltage recovery after long term storage and/or usage
High energy density
High and stable operating voltage
Low self discharge rate
Hermetic glass-to-metal-sealing
Non-flammable electrolyte
U.L. Component Recognition, MH 12193
Specifications
Nominal capacity @ 1 mA, to 2V
1.1 Ah
Max. recommended continuous current
50 mA
Max. pulse current capability
100 mA
Operating temperature range
-55 ºC to +85 ºC
Li metal content
approx. 0.35 g
Resources
All prices are in Australian Dollars and include GST. GST will be removed from your order if you are ordering from outside Australia.
All trademarks and trade names are the properties of their respective owners. Wiltronics disclaims any proprietary interest in trademarks and trade names other than its own.