Galvanic Skin Response Measurement Device Frederiksen
LQ0010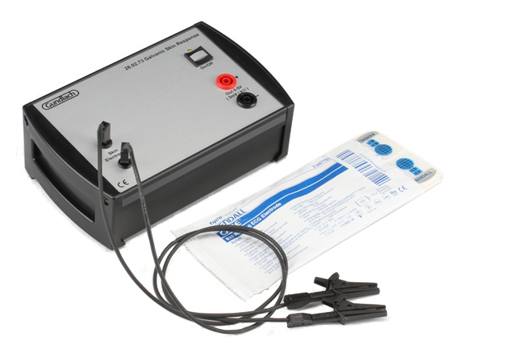 Description
Our Frederiksen Galvanic Skin Response Measurement Device measures fluctuations in galvanic skin response (GSR) in humans. Fluctuations in galvanic skin response occur when people are exposed to situations which can cause stress or anxiety. These situations could be questioning, mental challenges or influences from flavour or sound stimuli. GSR measurements also form part of the much debated "lie detector" tests used past and present all over the world.
The biofeedback is obtained when skin electrodes are placed on two fingertips. Exposal to external stimuli causes changes in the relative conductance over the skin surface of a small electrical current, which runs between the two skin electrodes. With the GSR-device these measurements can be recorded with a datalogger/interface or a simple voltmeter (none of these included).
This Galvanic Skin Response Measurement Device has primarily been developed to work with datalogger equipment from Pasco, but will also work with other systems and voltmeters. The GSR-device is supplied with battery, cables and self-adhesive skin electrodes (100 pieces).
Not included: Datalogger/interface equipment or voltmeter for data sampling.
Features
Measure human response to external stimuli
Demonstrate the basis of "lie detector" tests
Measure with a simple voltmeter or record using a voltage sensor
You Might Also Like
All prices are in Australian Dollars and include GST. GST will be removed from your order if you are ordering from outside Australia.
Products may differ from pictured.
All trademarks and trade names are the properties of their respective owners. Wiltronics disclaims any proprietary interest in trademarks and trade names other than its own.
Galvanic Skin Response Measurement Device Frederiksen
LQ0010
$
404.80