4 Stage 6/12V 4A Battery Charger with LCD Display
JMB3611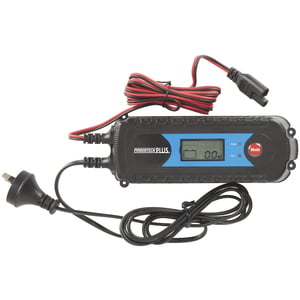 Description
An intelligent 4-stage maintenance charger for 6 or 12 volt lead-acid batteries. Maintains and extends battery life by constantly monitoring and correctly charging the battery indefinitely across four stages: pre-charge, constant current, constant voltage and float charge. Select from four charging modes, including: 6V/1A (slow), 12V/1A (slow), 12V/4A (fast), and 12V/4A (low temperature). The LCD interface clearly displays modes and measurement detections to ensure ease of operation. Safety features include short circuit and reverse polarity protection, wrong battery prompt, over temperature protection and power down memory. Numerous charging options make this a great choice for many vehicle, home and industrial battery charging requirements. The handy retractable hook means you can hang it where you need it.
Note: These chargers are not recommended for long-term "maintenance" charging of unsealed lead-acid batteries, the types with removable filler caps and liquid elctrolyte. Long-term continuous float charging of this type of battery may cause loss of water from the electrolyte, ruining the battery. If you are intending to use this charger on these batteries please use an appliance timer to automatically limit the charging to 30 minutes or so per day. 
Features
4-stage charging
Easy to use
Specifications
Charger Output Voltage
6V, 12V
Charger Output Current
4A
Cell Type(s) Charged
SLA Block
Mains Connection Type
Mains AU/NZ 2 Pin (No Earth)
IP Rating
65
6 - Dust tight, no ingress of dust
5 - Water jets
Dimensions
You Might Also Like
All prices are in Australian Dollars and include GST. GST will be removed from your order if you are ordering from outside Australia.
Products may differ from pictured.
All trademarks and trade names are the properties of their respective owners. Wiltronics disclaims any proprietary interest in trademarks and trade names other than its own.
4 Stage 6/12V 4A Battery Charger with LCD Display
JMB3611
$
99.95