Raspberry Pi 3 B+ Retro Games Bundle with 2 PS3 Style Controllers
RPi3B393+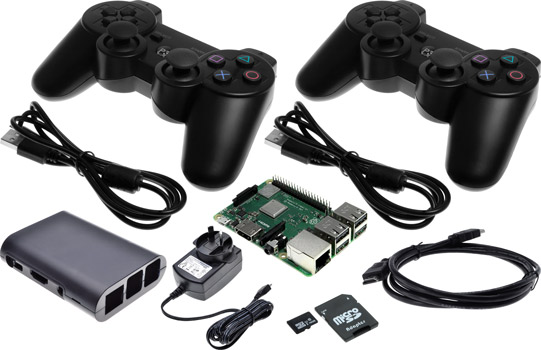 Description
Play classic games from a bygone era on this great bundle put together here at Wiltronics. Features a Raspberry Pi 3 Model B+ with everything you need to emulate retro games, including a 16GB microSD card preinstalled with RetroPi software and 2 PS3 style bluetooth controllers.
Note: The pack does not include a screen or speaker system.
Connecting the Controllers: Please note the drivers for the controllers are not installed automatically when the charging cable is connected. You can find instructions to install the drivers in the resources section below.
Included
1 x RPi3-B+ : Raspberry Pi 3 Model B+ Computer
The Raspberry Pi 3 Model B+ is the latest product in the Raspberry Pi 3 range, boasting a 64-bit quad core processor running at 1.4GHz, dual-band 2.4GHz and 5GHz wireless LAN, Bluetooth 4.2/BLE, faster Ethernet, and PoE capability via a separate PoE HAT. The dual-band wireless LAN comes with modular compliance certification, allowing the board to be designed into end products with significantly reduced wireless LAN compliance testing, improving both cost and time to market. The Raspberry Pi 3 Model B+ maintains the same mechanical footprint as both the Raspberry Pi 2 Model B and the Raspberry Pi 3 Model B.
1 x RPi3024BLK : Raspberry Pi 3 Model B Case (Black, Ergonomic)
Protect your Raspberry Pi 3 Model B+ with this ergonomic black case, while retaining access to the HDMI, microSD, microUSB, USB, and RCA ports. It has a minimalistic yet stylish design.
1 x PS1004-2.5 : Official 2.5A 5.1V Power Supply for Raspberry Pi 3
This power supply unit (PSU) for the Raspberry Pi 3 is Pi Foundation approved. The power supply is an integrated 1.5m cable and microUSB plug. It supports up to 2.5A of current which is plenty to power devices through the four USB ports on the board.
2 x GC1001 : PS3 Style Bluetooth Controller
Play classic and modern games with these PS3 style controllers, without the hassle of a wired connection. Includes 1 meter charging cable.
1 x CM0094M-RETRO : microSD Card 16GB Class 10 with RetroPie for Raspberry Pi
microSD HC card with 16GB of Class 10 flash memory, pre-installed with RetroPie game emulator for Raspberry Pi. RetroPie turns your Raspberry Pi into a retro-gaming machine, allowing you to play your favourite arcade, console and classic PC games with minimal set-up.
1 x RPi3402 : HDMI Lead High Speed 2 Metre
This high speed HDMI lead is 1.4 compliant and ideally suited for connecting your Raspberry Pi 3 Model B computer to any HDMI monitor or HDTV.
Resources
You Might Also Like
All prices are in Australian Dollars and include GST. GST will be removed from your order if you are ordering from outside Australia.
Products may differ from pictured.
All trademarks and trade names are the properties of their respective owners. Wiltronics disclaims any proprietary interest in trademarks and trade names other than its own.
Raspberry Pi 3 B+ Retro Games Bundle with 2 PS3 Style Controllers
RPi3B393+
$
159